I will be the first to admit that car fanaticism is a strange passion. One that I've never been very good at explaining. Working on the car and making it better under the skin is a great feeling – even if you're the only one who will ever know improvements were made. Sometimes that's all you need.
A car fanatic understands the feeling that comes on a sunny, relaxing morning after starting a favorite classic's engine up, pulling out of the driveway in it, approaching the corner stop sign then accelerating onto a main thoroughfare.  Alone with just the radio.  It all serves to heighten the senses and make one feel alive.
The internet contains a wealth of videos that are filmed by folks from the front seat of their classic cars at speed.  Complete with a view of the car's hood, and road.  An authentic view from the driver or passenger's seat.
Although no words are spoken in most of them, it's easy to be pulled in to the visual and audio experiences that all of these videos offer.  In just about all of the ones below the first ten seconds of footage can be skipped, but on particular videos that have long delays before the relevant part begins, I will let you know in the comments.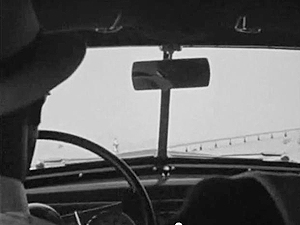 If you have ever owned or appreciated a car built before 1990, one where it is still possible to the front of it from behind the wheel, you will understand.
So plug a pair of headphones into your computer, put these on full screen, and enjoy…
-Sean
IN ALPHABETICAL ORDER, BY MAKE…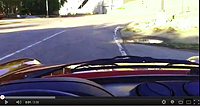 1973 ALFA ROMEO SPIDER 2-SEAT CONVERTIBLE  Although updated over the years, the Alfa Romeo Spider convertible remained in the same basic form from 1966 through 1994.  This 1973 video shows a great view of the cabin and features some great engine sounds.  A second video of a 1990 SPIDER allows a better view from the driver seat, but wind noise blocks any other sounds.
1980 ASTON MARTIN V8 VANTAGE COUPE  A road test through an enclosed section of roadway in the Alpine Mountains lets you hear the power of this model's eight-cylinder engine.  Suddenly it's not so hard to understand why customers of means parted with $90,000 to own these back then.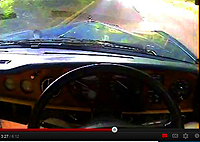 1988 BENTLEY TURBO R  An English salesman gives a tour of this first-year model's features along with a test drive.  Because it's in the U.K., the Turbo R in this video is right-hand-drive.  Driving scene starts at about 34 seconds in.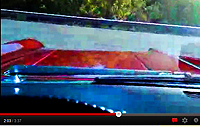 1963 BUICK RIVIERA  First year of the 1963-65 design that was originally planned as a Cadillac model.  Person selling his '63 gives a backroads drive and points out various features of the Riv.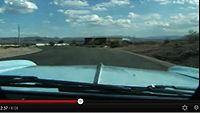 1963 BUICK RIVIERA #2  This video features some good outside shots of the car before the road test begins at 2:19.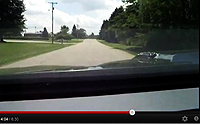 1987 BUICK REGAL GRAND NATIONAL  Nice driver seat vantage point in this video of a final-year Grand National (for those unaware, that's a Buick Regal coupe painted monochrome black powered by a factory supercharged V6).  These models were limited production and are very collectible today.  Great shots of the outside of this 1,700 mile example – skip to about 2:31 for driving sequence.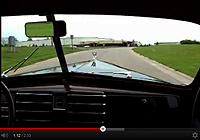 1938 CADILLAC V-16 SEDAN  After some views of the car, driving scenes start at 1:00.  A very regal car, this is an enjoyable ride.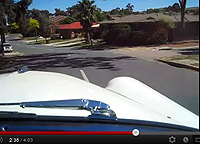 1955 CADILLAC ELDORADO CONVERTIBLE  A cruise in a very rare right-hand-drive model.  A great example of what it was like to drive a large American car of 1950-56 vintage.  Car starts rolling at 1:25.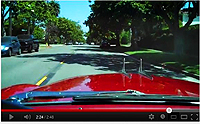 1956 CADILLAC ELDORADO SEVILLE MODEL  A used car dealer films a steering-wheel perspective video of driving the car through southern California.  The camera shakes slightly, but this is worthwhile.  Cruising starts right away.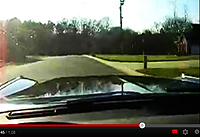 1963 CADILLAC COUPE DE VILLE CONVERTIBLE  A driver-seat video taken in a large Caddy built the year fins had almost disappeared.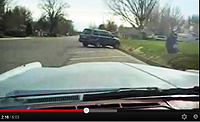 1967 CADILLAC ELDORADO COUPE  This first year of the 1967-70 Eldorado design featured innovative front-wheel-drive, and established the Eldorado as a separate vehicle model rather than an upgraded Coupe de Ville.  The '67 example in this video is weathered, but the videographer got all the pertinent angles of the vehicle in. Car starts rolling about 2:07.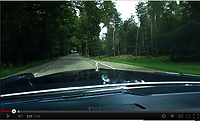 1968 CADILLAC ELDORADO COUPE  A nice relaxed cruise through a wooded park.  This navy blue '68 is in very nice shape, and has a rare standup hood ornament most Eldos of this style did not have.
1970 CADILLAC ELDORADO COUPE  The final year of the 1967-70 innovative Eldorado design and the first year of Cadillac's 500 cubic inch (8.2 liters) V8 engine which ran through 1976.  Another short enjoyable steering wheel video of a '70 Eldorado in rougher shape is here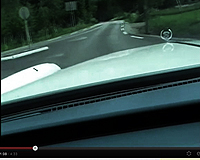 1975 CADILLAC ELDORADO CONVERTIBLE  For a good feel of what it's like to pilot one of these love boats, forward to about :27.   Wheel covers on this car are from a 1969 or '70 Eldorado.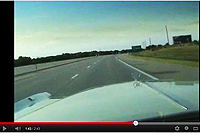 1976 CADILLAC ELDORADO CONVERTIBLE  Skip to about 45 seconds into this video for a nice relaxed ride in a final-year full size American convertible.  Although this era of styling came to an end in 1978, these Eldorados were advanced with standard 4-wheel disc brakes standard and available fuel injection.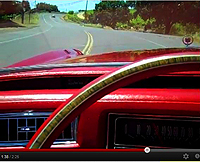 1976 CADILLAC ELDORADO CONVERTIBLE  For Eldorado convertible lovers, here's another one.  This pristine example has 26,000 miles and a red exterior and interior.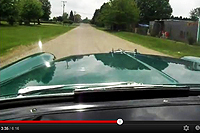 1956 CHEVROLET 150  The 150 was a model several trim levels below the well-known Bel Air.  Here, an owner gives a driver-seat view of driving the 150 with 6-cylinder and column mounted 3-speed stick shift.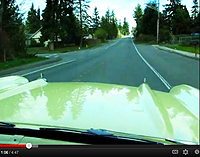 1957 CHEVROLET BEL AIR HARDTOP COUPE  Front seat view of the driving experience of one of America's most famous collector car.  Driving scene starts almost immediately.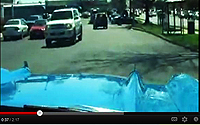 1957 CHEVROLET BEL AIR HARDTOP COUPE  A second '57 Chevy video which shows some good views of the outside of the car as well.  Skip to :31 for driving scene.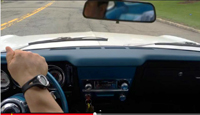 1967 CHEVROLET CORVAIR coupe  A 3.5 minute segment from the driver's seat vantage point in a 1967 Chevrolet Corvair hardtop coupe 6-cylinder.  Unmodified, original Corvairs features sophisticated ride and handling – not just for their day, but for any decade, and this video documents a small bit of it.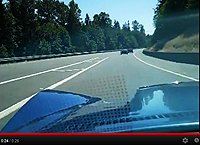 1970 CHEVROLET CORVETTE ZR1 COUPE  This video shows a driver seat view of this limited-edition original ZR1.  The high performance engine can really be heard in these highway driving scenes, which start immediately.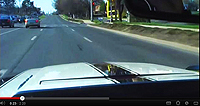 1972 CHEVROLET CHEVELLE SS 454 COUPE  The musclecar V8 rumble comes through really nicely in this video.  A second '72 Chevelle SS video is here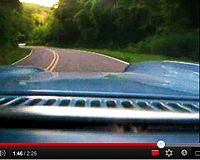 1973 CHEVROLET VEGA GT  If you ever owned a 4-cylinder 1970s Chevy Vega, the engine buzzing noise in this video will take you back.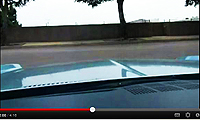 1976 CHEVROLET MONTE CARLO  A very clean example of the 1973-77 Monte Carlo midsize "personal luxury" coupe design.  Outside and inside shots before driving begins at 1:37.
1977 CHEVROLET BLAZER 4×4  Having spent a good deal of time behind the wheel of a '77, I offer this one for 1973-91 style Blazer/Suburban fans.  Short video, but a good one especially since this Blazer is equipped with a manual transmission.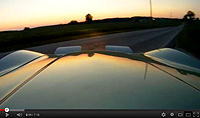 1977 CHEVROLET CORVETTE COUPE  A really nice video shot from the center dash position, it allows a perfect view of the hood with the retractable headlights in the up position.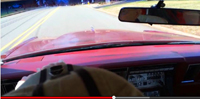 1982 CHRYSLER IMPERIAL  This is a perfect driver seat view, shot from right over the driver's head.  It completely gives you the feeling of piloting any 1981-83 Chrysler Imperial.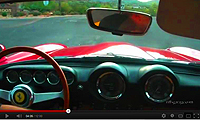 1961 FERRARI 250GTL COUPE  A nice mix of slow and faster driving lets one really appreciate the sound of this car's V-12 and manual transmission.  After some good shots of the car, behind the wheel scenes start at 1:40.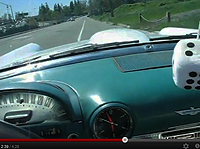 1955 FORD THUNDERBIRD 2-SEATER  Video #1 of one of Ford's most iconic '50s cars.  Car starts rolling at 1:24.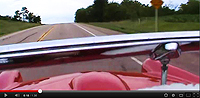 1955 FORD THUNDERBIRD 2-SEATER  Video #2 of one of Ford's most iconic '50s cars.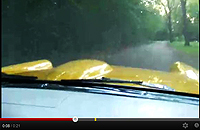 1955 FORD THUNDERBIRD 2-SEATER  Video #3 of one of Ford's most iconic '50s cars.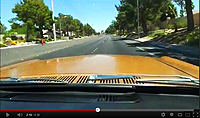 1964 FORD MUSTANG COUPE  This one is equipped with a 289-cubic-inch V8 engine and 4-speed manual.  Good views of the car before driving sequence begins at 1:52.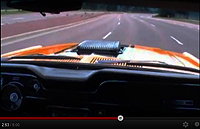 1967 FORD MUSTANG FASTBACK COUPE  This "Boss" model has been retrofitted with an '80s era 5-speed manual and 5.0-liter V8.  Behind the wheel video footage begins at 2:38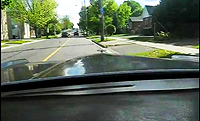 1976 FORD THUNDERBIRD COUPE   From back when T-Birds were still the size of extra-large Lincolns.  Short but good.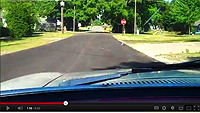 1977 FORD PINTO  Although this car's exhaust system has seen better days, this driver's seat video will take you right back to the 1970s if you've ever spent seat time in a Pinto.  Nice clean car and a great period piece overall – that's the point of collecting cars, right?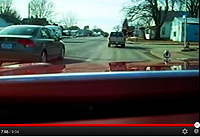 1977 FORD LTD COUNTRY SQUIRE WAGON  If you grew up in the 1970s or '80s, you probably knew someone who had one of these 1973-78 style wood-sided wagons.  My own father had a '78, and this video (complete with 8-track being inserted into player) brings back good memories.  Driving part starts at about 1:18.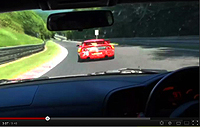 2004 HONDA S2000 TWO-SEAT CONVERTIBLE
Filmed from the driver seat position by someone renting time on the German racetrack "Nurburgring" along with other people in Ferraris, BMWs, Fiats, and many more.  This driver's finesse pays off, as he's able to pass a Ferrari 355.  Part 2 of this video is shot by the same person, but in a right-hand-drive S2000 here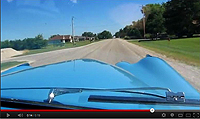 1949 JAGUAR XK120  This is the first of several videos which are noteworthy rides in XK120s, all of which give you a taste of what raw fun these cars are.  This first video is in a 1949 model – it's a short but a good one.  The sound of this car's dual overhead camshaft (extremely advanced engineering for the time) engine is music to the ears.  Hook headphones up to your computer if you have them.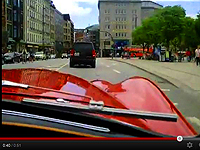 1954 JAGUAR XK120  This video is filmed from the passenger seat riding in a XK120 through crowded streets in Europe.  For anyone who's owned a British sports car, the exhaust sound in this one will really bring you back.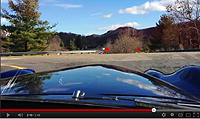 1953 JAGUAR XK120  This is a longer drive on highway roads.  Very enjoyable.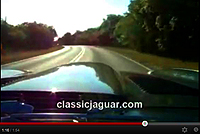 1965 JAGUAR E-TYPE CONVERTIBLE  Filmed by classicjaguar.com, this video allows the viewer to enjoy all the great V-12 Jag engine sounds during a thorough thrashing.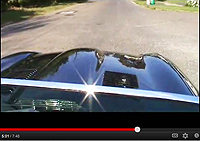 1966 JAGUAR E-TYPE CONVERTIBLE  This one is a more in-depth walkaround of the vehicle, and driving around backroads at more relaxed speeds.  Very informative, with driving scenes starting at about 3:33.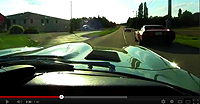 1969 JAGUAR E TYPE CONVERTIBLE  This is one of my favorites.  Two German guys in an E-type participating in a road rallye or caravan of some type with other collectible cars, driving through some region in Europe.  Although they speak only German, they are both very entertaining especially after passing an '80s Ferrari 328.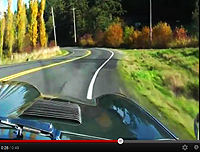 1974 JAGUAR E-TYPE CONVERTIBLE  Short video of a final-year E Type accelerating up a mountain hill.  Just right…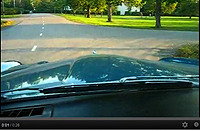 1981 JAGUAR XJ6 SEDAN  The "Type II" version of Jag's sedan design (introduced originally for 1969) ran from 1980-87.  This video features an '81 XJ6 sedan.  The owner concentrated on filming the hood – in his own words, "the most of modern cars have no hoods anymore. My Jaguar XJ6 has!".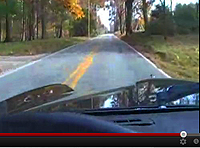 1986 JAGUAR XJ6 SEDAN  A second video with a Type II XJ6.  Excellent driving view and sounds from the inline 6-cylinder overhead cam engine.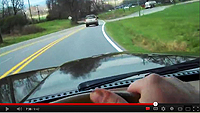 1985 JEEP GRAND WAGONEER  Running almost unchanged from 1963 – 1991, the Grand Wagoneer with fake wood trim is best remembered as an '80s classic (it's most popular decade).  Here, a dealer covers the car inside and out first, then starts a road test at about 4:57.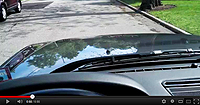 2004 LAND ROVER DISCOVERY  For fans of old school Land Rovers, a driver-seat view of a final-year 1999-2004 style Discovery.  Outside shots of the vehicle before road test begins.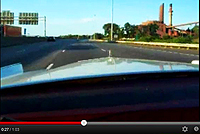 1977 LINCOLN CONTINENTAL SEDAN  "Sails the highway" is a perfect description of this first-year 1977-79 Continental sedan.  One of the longest and widest American cars ever produced, this video really captures '70s luxury.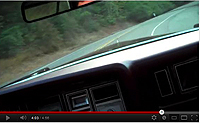 1978 LINCOLN MARK V COUPE  Great video of the outside and inside of this 1977-79 style American classic  "Bill Blass Edition".  Driver seat driving footage begins at about 2:21.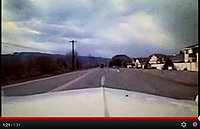 1979 LINCOLN MARK V COUPE  Center dash mounted camera gives the perfect view of this '79 Mark V "Collector Edition" model's majestic hood.  Short video, but contains all driving footage.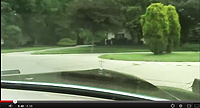 1979 LINCOLN CONTINENTAL SEDAN  Check out the hood of this car.  If you grew up in the 1970s or '80s, the view from the passenger seat might just take you back to riding shotgun in a parent's car as a kid.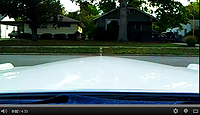 1988 LINCOLN TOWN CAR  1980-89 style Town Cars were a size smaller than their '70s counterparts, but gave almost equal "king of the road" feeling.  This '88 captures the car's boat-like fun.  A second video of an '88 Town Car is very short, but enjoyable here.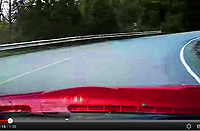 1990 MAZDA MIATA CONVERTIBLE  Miatas haven't changed in their mission over two decades, but many feel the first generation 1990-97 design is the most classic due to pop-up headlights.  In this first video, an owner does a hill climb near Vancouver.  Additionally, a short video of a 1992 MIATA with an aftermarket turbo allows a great in-cabin feel (starts at about 18 seconds in).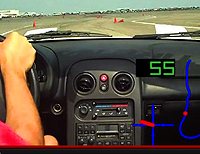 1994 MAZDA MIATA CONVERTIBLE  Another first-generation Miata 2-seater gets put through its paces at a slalom driving event.  Headlights are in the up position.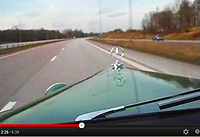 1953 MERCEDES-BENZ 170 SEDAN  An owner in Sweden films some good behind the wheel footage around the countryside.  Driving scenes start at 1:02.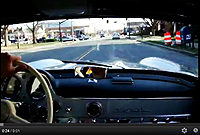 1955 MERCEDES 300SL GULLWING COUPE  A very recognizable and valued Mercedes classic model, production Gullwing-door coupes were only offered from 1955-57, after which the 300SL switched to a convertible-only model with traditional doors.  This video allows a look at the view from behind the helm.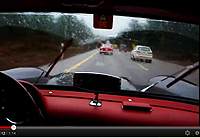 1957 MERCEDES 300SL GULLWING COUPE  Most classic 300SL owners never take their cars out in the rain, but here's one who does.  Old style wipers are enjoyable to watch.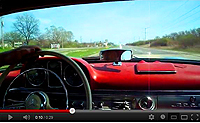 1959 MERCEDES 300SL CONVERTIBLE  A short blast at full throttle really brings out this 300SL's six-cylinder engine.  Truly great sounds.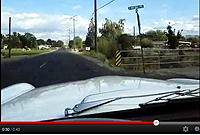 1964 MERCEDES-BENZ 230SL CONVERTIBLE  This '64 model was the first year of the design that replaced the iconic 1955-63 300SL shown in the above three videos.  This video is in two parts.  Part 2 is continued here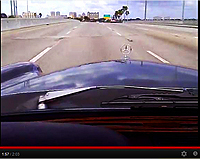 1971 MERCEDES 300SEL 6.3 SEDAN  A drive in a nice-sounding S-Class sedan of 1962-72 vintage.  "6.3" models such as this one equipped with big V8 engines were a precursor to later AMG performance models.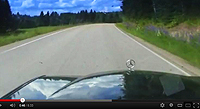 1978 MERCEDES-BENZ 300D DIESEL  Because of two widespread gas crises during the 1970s, Mercedes sold more 4- and 5-cylinder diesel models than anyone else between 1975 and 1985.  This 300D is of the 1977-85 "E Class" design, and features a 3.0-liter 5-cylinder diesel.  Having owned an '85 300D since 1992, I can say this particular engine has a sound all its own.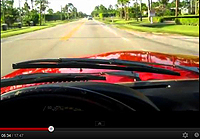 1988 MERCEDES-BENZ 560SL  The SL 2-seat roadster remained in the same form from 1972 to 1989.  Although engines and interiors were updated along the way, not one body panel changed.  This roadtest of a later vintage '88 560SL gives the best feel of driving one of these classics.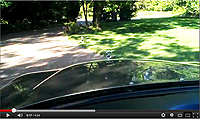 1991 MERCEDES S-CLASS SEDAN  Here, a brief drive through the countryside in a "126 body" S-Class, produced from 1980-1991.  This model is a V8-powered 420SEL.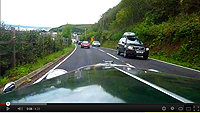 1949 MG "YA" SEDAN  Little known in the United States are 4-door MG models.  The "YA" was one of them.  Virtually the same length as the company's traditional roadsters, sedans had the same basic character…as this video of an owner's drive through Wales will show.  Part 2 of the video is here.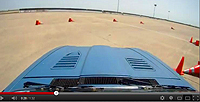 1983 NISSAN / DATSUN 280ZX TURBO  Z fans, here's an angle of your car that you don't get to appreciate every day.  Footage from a roof-mounted camera through a slalom course at a Volvo Club of America Autocross.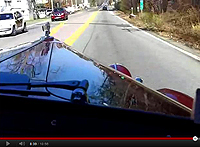 1939 PACKARD 120  Nice, scenic ride in a pre-World War II era Packard, truly a great piece of American history.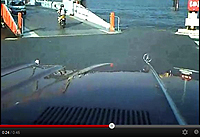 1976 PLYMOUTH VOLARE  Three short brief videos taken by a Hamburg, Germany resident driving his '76 Volare.  The sound of the starter motor cranking driving onto a ferry boat brought back memories for me of my neighbor's '77 Volare sedan growing up.  The second one is accelerating through the streets, in which the car's V8 engine (probably a 318 cubic inch) can be heard.  The third one is similar.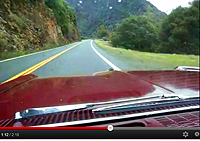 1965 PONTIAC TEMPEST  In this video, a woman nicknamed "Cupcake" pilots her new '65 Tempest V8 sedan with 4-speed stick shift from California to Washington state.  Great angles in and outside of the car.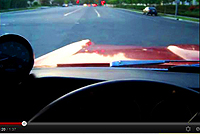 1966 PONTIAC GTO COUPE  A short drive with several acceleration blasts in a '66 GTO.  One can tell how much fun these cars are just by watching.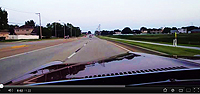 1969 PONTIAC GRAND PRIX  1969-72 style Grand Prixs were mid-size coupes designed with the longest hood possible to create a feeling of a personal luxury car combined with a muscle car.  Here, a well-tuned '69  sounds great on the road.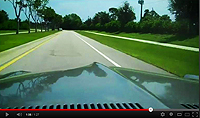 1972 PONTIAC GRAND PRIX  Like the '69 Grand Prix above, this final-year '72 has equal appeal.  This model has the biggest engine available (455 cubic inch V8).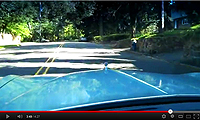 1975 PONTIAC GRAND VILLE CONVERTIBLE  The Grand Ville was Pontiac's highest line model, produced from 1971-75 in sedan, coupe, and convertible form. The Grand Ville was slotted above the Catalina and Bonneville. Best footage starts at about 2:42.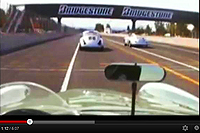 1958 PORSCHE 356 RACER  Classic Porsche fans will enjoy this race of all-356 models filmed at Portland International Raceway in 2007.  The camera is facing backwards until about 1:21 when it's turned to face forward.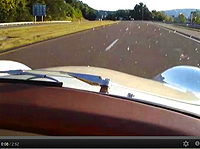 1963 PORSCHE 356  This owner uploaded a series of short videos of highway driving from the front seat.  The 356 was the original 1948-65 Porsche beetle-shaped design that put the company on the map.  (It was replaced by the new-for-1966 911).  Great sounds for Porsche fans.  This video is part 1 which will link to parts 2 and up on youtube.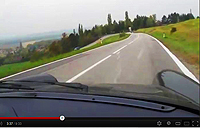 1987 PORSCHE 911 COUPE  A drive of Porsche's classic rear-engine 911 (in production since 1966).  Beautiful background scenes of Austria in this video, and great engine sounds from the car.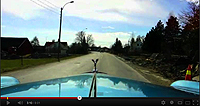 1976 ROLLS ROYCE SILVER SHADOW SEDAN – No matter if it's a coupe, convertible, or sedan, Rolls models always make one feel like a king behind the wheel.  Road scenes start at 3:01 in this video.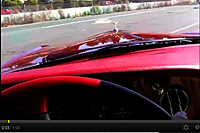 1996 ROLLS ROYCE SILVER SPUR  Decades pass, but classic Rolls Royces never lose their positive attributes.  This video gives a great driver's seat feel to piloting one of these cruisers.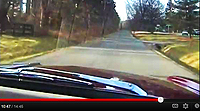 1963 STUDEBAKER AVANTI COUPE  A front seat view from a first-year classic '63 Avanti coupe.  Outside shots of the car, driving sequence begins at about 3:17.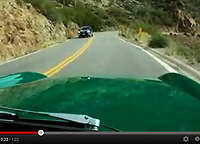 1972 TRIUMPH TR6 CONVERTIBLE  Kudos to this car owner for making one of the best short driving videos.  With windy mountain pass roads, Arizona scenery, and great 6-cylinder engine sounds, one can truly appreciate this 1969-76 style TR6.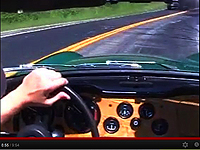 1972 TRIUMPH TR6 CONVERTIBLE #2  This video, also of a '72 TR6, features some great Wisconsin scenery along with views of the car.  Good views of the dash and instrument cluster too.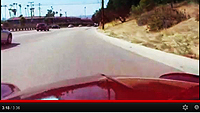 1971 VOLKSWAGEN KARMANN GHIA COUPE  Having owned an air-cooled '75 VW Beetle briefly, I always appreciate the sound these opposing-motion piston engines make.  Driving scenes start at 2:16.  Great video, and good exterior views of the car.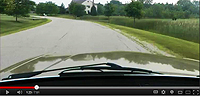 1979 VOLVO 265 WAGON  Behind the wheel videos don't come better than this for Volvo's iconic 200 series sedan & wagon.  These cars ran from 1975-1993 unchanged, save for periodic front end revisions.  I used to specialize in these cars as a mechanic, and can say they were the most fun-to-drive tanks ever made.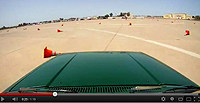 1983 VOLVO 244 SEDAN  Here's another one for 200 series Volvo fans, filmed from a roof-mounted camera at a Volvo Club slalom driving event.