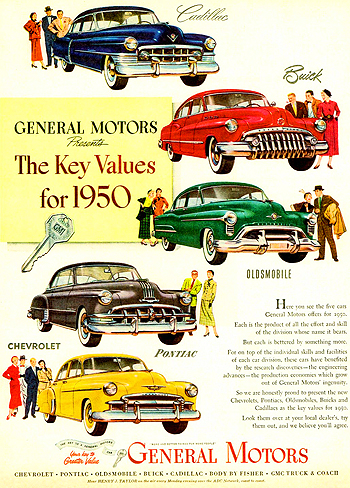 It's been said that good one-page automotive advertisements are a high art form.  The manufacturer putting their best foot forward.  Using their most colorful graphic artistry to first catch your eye.  Making your left brain want what's on the page, need it, yearn for it with the most striking angle of the product.  Then saying your lust is perfectly acceptable with facts that satisfy the right-brain accountant side.  Or wear down a spouse that doesn't get it.  The beauty of it is that it's all happening on one page.  That takes talent.  Sometimes, if the logo of the marque is a strong enough selling tool by itself, you'll see it with a full halo effect surrounding it.
For your enjoyment, we share some of our favorite original auto advertisements in this section below. They are organized in alphabetical order by make, then chronologically after that.  This section is a work in progress, and we're adding things as fast as time allows.  We've got European, Asian, and American car ads – with a lot more coming.
If you appreciate automotive advertising, we also have a section devoted strictly to vintage car commercials (click on "Vintage Car Commercial Links" along the header above).  Each one will bring you to a virus-free youtube video.
Click on any of them to see a full size image, and to enter the slide show.  Once there, scroll using left or right arrows at the bottom of the screen.