Once in awhile throughout the history of classic cars, truly interesting creations are born.  Interesting because they're unique enough to stand out and catch your attention in the first place, well-done enough to hold your attention, and perceived as desirable enough to draw similar attention from others.  Like it or not, these three attention factors are huge motivating forces behind a lot of things we purchase in this lifetime – not just motor vehicles.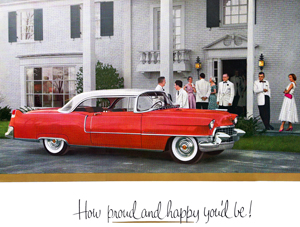 Established status symbols can often trigger all three attention needs without requiring a great amount of imagination in the eye of the beholder.  After all, there's very little risk wanting something with an overwhelming amount of proven envy appeal.  In the world of automobiles, it's hard to argue few brands had this mojo perfected more than Cadillac and Chevrolet did during the 1950s for their respective market segments.

While the number of automotive brands and independent manufacturers numbered higher in the 1950s than today, few of them were as intriguing as the "El Morocco".  Even though it's a stretch, we'll consider the El Morocco a separate brand because these cars were originally titled under that unique brand name by motor vehicle agencies.
WHAT IS AN EL MOROCCO?
The El Morocco was a custom creation from a Detroit-based company (R. Allender & Company) founded by Ruben Allender that sold war-surplus textiles.  Allender was a car fanatic, especially when it came to Cadillacs and other General Motors brands.  After taking delivery of a new 1955 Eldorado convertible, he noticed how it was identical from the doors forward to that year's lower-priced Coupe DeVille model.  The visual difference lay in rear quarter panels, a trunk, and tail lights that were unique to the Eldorado.  G.M. felt the overall look combined with streamlined fins and open rear wheel wells created a look unique enough for them to pass off as a separate model with a much higher price tag.  And because G.M. led the way in automotive styling during this period, it was accepted more or less without question.
Allender thought a similar fin treatment would work just as well on smaller Chevrolet models, and he daydreamed about a trimmer-size model that had the eye appeal of a Cadillac but was much easier to handle.  That's how the idea for the El Morocco was born.  The name "El Morocco" was chosen because it was one of New York City's most popular night clubs at the time, and he hoped it closeness to Eldorado would make buyers associate it with Cadillac.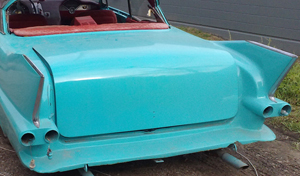 During 1955, Allender & Co hired experienced tool and die makers. This talented group he assembled roughed out and finalized which parts of the El Morocco would be original and created from scratch, and which surplus trim pieces, hardware, weatherstripping, and other bits would be purchased off the shelf from other established automakers to keep costs down.  1956 Chevrolets that were just starting to come off the assembly line would be used as the base cars, so an agreement was made with Detroit area dealer Don McCoullagh Chevrolet to purchase Chevrolet 210 and Bel Air models for $50 over cost.
"BORROWED" PARTS
When it came to borrowed parts sourced elsewhere, the El Morocco's grille ornament above the V was actually a Kaiser-Frazer production horn pad button, dagmars on 1956 front bumpers were inverted 1937 Dodge headlight bezels, door top saddle moldings were dash panels from a 1955 Willys, rear fin edging was from a 1955 Ford, and tail lights were taken from a 1955 Dodge Coronet and rotated 90 degrees to create a side-by-side look (on 1956 El Moroccos only).
False exhaust ports were also added to the rear to emulate Cadillac's Biarritz model.  1956 wheel covers (15-inch wheels) and 1957 wheel covers (14-inch wheels) were all purchased in bulk from the J.C. Whitney catalog.  We wonder why Allendar didn't swap out 15-inch wheels when Chevrolet moved to 14-inchers in 1957, but wheel size didn't really sell cars in those days.

ORIGINAL BODYWORK AND PARTS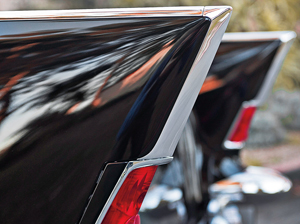 Early on in the development process, Allender and associates decided on fiberglass construction for the unique tailfins that would be El Morocco's signature.  Detroit firm Creative Industries was contracted to create the molds, and an experienced fiberglass fabricator was hired to manufacture and install them.  After the first 1956 prototype was completed and processes were finalized, a two-story garage in Detroit was rented to begin vehicle modifications.  Many of the El Morocco's unique bodyside moldings were fabricated there or in other Allender Company warehouses, and construction of other pieces was farmed out to trim manufacturers in the area.
According to information available, the process at Allender's shop would start when a new Chevrolet was driven in to the first floor.  All OEM trim and other parts that wouldn't be used were stripped off the car and sold to local body shops.  This included upholstery, interior door panels, side trim, bumpers, and headlamp bezels.  After this, the car was sent to the second floor so that trim holes could be filled with led then sanded smooth.
Chevrolet rocket ornaments on the hood were cut out, then a flat piece of steel was welded in to create a smooth surface.  On 1957 models, three gold anodized front fender ornaments were also removed and filled with led.  Once this process was complete along with rear fender work, the car was sent elsewhere on the second floor to be sprayed with lacquer paint.  The car was then reassembled with El Morocco exterior custom trim, and the interiors were re-upholstered.
What's interesting is that the tops of 1956 Chevrolet 210 and Bel Air tailfins were cut off, then the fiberglass replacement fins were bolted on and smoothed over with epoxy resin.  Miniature replicas of these tailfins were then mounted on the hood to remind the driver how stylish their ride was.  To amp up the Cadillac look, the El Morocco badge featured block lettering similar to the Eldorado.  1957 El Morocco models went with metal fender tops in place of fiberglass, and grilles were made of stainless steel that year – a touch that showed this car was created by those who appreciate engineering and longevity over cost.  Reports acknowledge twenty El Moroccos were built for 1956 (18 convertibles and 2 hardtops) while seventeen 1957s were built as a mix of convertibles, coupes, and sedans.
According to research done by Motor Trend Classic, a total price of $3,250 was listed on 1956 El Moroccos – $807 more than a stock 1956 Bel Air V-8 convertible.  According to the 1957 brochure, prices were $3,125 for the two-door El Morocco Brougham hardtop, $3,175 for the four-door, and $3,275 for the convertible.  For those willing to furnish their own car for El Morocco conversion, the fee was $775.
Sales literature described the El Morocco as "The luxury car in the low-priced field", and all of them came well-equipped with Chevy's Power Pack V-8, Powerglide automatic transmission, power steering, power brakes, white sidewall tires, pushbutton radio, and heater.  For reference, 1957 Cadillac base prices ranged from $4,713 for a base Series 62 sedan up to $13,074 for a limited-production Eldorado Brougham.  An El Morocco coupe was about the same price as a similarly equipped '57 Oldsmobile 88 coupe and slightly more than a base 1957 Buick Century.  The perception buyers were supposed to have is that their mini-Cadillac had more panache than either the Buick or Olds.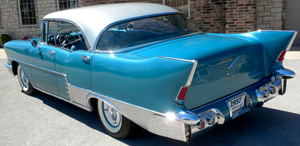 We spoke with Jacqueline Mallone, whose grandfather once owned a Chevrolet dealership in northern New Jersey during this era.  She remembers how her grandfather was aware of the El Morocco program and sent one of his own 1957 Chevrolet hardtop sedans for the conversion.  Recalls Jacqueline, "It was a dark green 4 door with no pillars, and it had the fins, trim, and look of a Cadillac.  Lots of people who didn't know cars really thought it was a Caddy, and it was cool-looking.  It was also customized with a metal bar along the back of the front seats where we hung blankets.  Sadly, it got stolen out my grandfather's garage in the early 1970s and was never recovered."
It's uncertain whether the end of El Morocco production during 1957 was due to General Motors learning about Allender's enterprise and applying pressure on dealers not to supply him with cars, financial losses due to slow sales, the need to revamp all parts extensively for new upcoming 1958 models, or a combination of all three.  Allender was a shrewd, successful businessman in other ventures – perhaps he simply decided it was time to cut losses on his beloved carmaking venture which wasn't worth the trouble any more.  Nevertheless, we feel Ruben Allender made the automotive world a better place by being in it, and we at Classic Cars Today Online fully salute him for his work.
CLICK ON ANY OF THE PICTURES BELOW TO EXPAND THEM TO FULL SIZE.  SELECT EITHER OF THE SMALL ARROWS UNDERNEATH THE PIC YOU'RE LOOKING AT TO SCROLL BACKWARD OR FORWARD