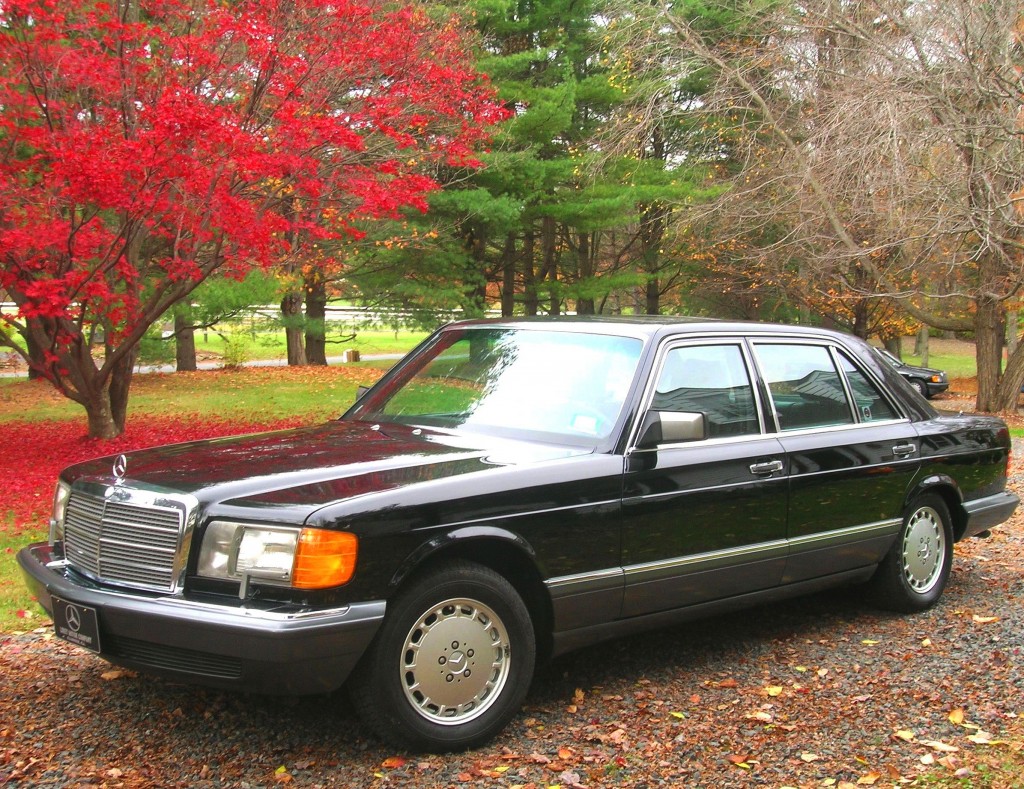 "I knew a black S-class was my dream car the moment I saw one in 'Beverly Hills Cop' in 1984. Watching bad-guy Victor Mateland pull out of the gates of his mansion in a black 500SEL, it was love at first sight.  So many movie villains drove '80s S-classes because these cars have such presence," recalls Elaine Robertson.
Photo slideshow with larger pictures of this 560SEL is at bottom of article
Primarily a dealer of antiques and revolutionary war-era clothing, Elaine is also renowned in her home area for automotive detailing.  Having given clinics on the subject, she's been hired by professional athletes and private collectors alike to bring their cars up to trophy-winning condition.  "Some days I start out working on ball gowns and end working on ball-bearings."
The 1980-91 Mercedes S-class (coded internally as "126-bodies") enjoyed a long, unchanged design run save for revised wheels, headlights, and plastic-side body cladding '86s models received.  By 1981 most Mercedes sales in the U.S. were diesel models because of lower fuel costs and higher economy inherent with diesel engines.  Even 80% of 126-bodies sold through 1985 were diesel 300SDs, rather than long-wheelbase 380/500SEL V8 gasoline models.
As gasoline prices dropped and the U.S. economy recovered, '86s also saw increases in engine size and power across the board. Five-cylinder diesels became six-cylinders while 3.8- and 5.0-liter V8s saw increases (via longer piston strokes) to 4.2- and 5.6-liters. 126-body coupes ran from 1982-91, powered only by the largest V8 offering of each year. Short-wheelbase models (reduced four inches at rear door openings and lacking "L" designation) were dropped in the U.S. for 1986-87, only to return when '88 300SE/SEL six-cylinder gasoline models replaced diesels altogether.  Another six-cylinder 350SD/SDL turbodiesel appeared alongside 300s for 1990-91.
"The original owner posted this car for sale in the Mercedes Club magazine in 2001. I thought by the time I'd noticed the ad, I would have missed the chance to buy it. Black 560SELs sell fastest, especially a '91 with 13k miles.  Turns out the seller was a woman corporate banker in Manhattan, who'd been screening calls and not returning them for 3 weeks until I left a message. She loved this car dearly, and only wanted to sell it to a collector with no children who was a woman. I was the first woman who called and only after I could prove the rest to her did we work out a deal."
First thing noticeable driving this 15,000-mile 560SEL is the new car smell still present. The 4-speed automatic normally starts in second gear but quick throttle application summons low first gear, providing potent acceleration from the 5.6-liter's 238 horsepower. Steering and ride feel heavy, yet creamy smooth akin to older Rolls-Royces. While it cruises as effortlessly as a jet plane at highway speeds, standard footrests and heating for the rear seats remind you this is a car also suited for chauffeur-driven pampering. Presence indeed.
ORIGINAL LIST: $76,280
CURRENT VALUE: $5,000 – $20,000
CLICK ON ANY OF THE PICTURES BELOW TO SEE FULL SIZE IMAGES.  HIT ARROW BUTTONS UNDERNEATH EACH PHOTO TO SCROLL BACK OR FORWARD.