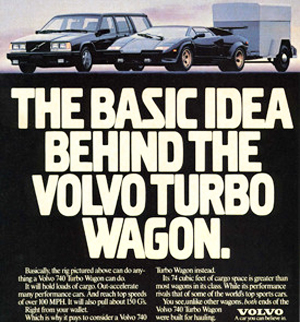 If you've been searching for an inexpensive, unique gift that will intrigue the car fanatic in your life, our online store BEST OF THE PAST CAR ADVERTISEMENTS (Click here to visit our page) has just what you need.  Specializing in 1950s to present-day original car advertisements from magazines as well as brochures, we've got thousands of items of all makes.
Even if you're not planning to buy anything, the humorous and interesting images found within our store make it well worth a look.  Nick Barrett, who runs our store, manages a four-drawer file cabinet filled with thousands of ads of every make.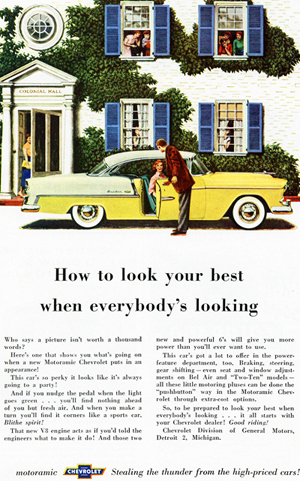 According to Barrett, "A good one-page advertisement can be a piece of art – especially when it comes to automobiles.  The manufacturer puts their best foot forward, giving you their best sales pitch in a limited space along with artistry, color, and the star vehicle front and center.  It's interesting to see how automotive sales pitches varied over the decades based on economic ups and downs, fuel shortages, gas prices, horsepower races, and much more."
It's hard to deny car advertisements can transport you back in time better than almost anything, something that makes them real period pieces of nostalgia when inserted into a nice frame.  Because they cross the line into general nostalgia, classic car ads are something everyone can enjoy, not just car fanatics.
When asked how he got started, Nick recalls, "Years ago, my freshman college roommate had a framed magazine ad of a red 1970 Chevelle Super Sport in our room.  Even though he didn't own one, he liked the way the ad's picture and text really pulled almost any viewer in.  Just by looking at it, you could practically hear the low rumble of the big block V8 engine idling.  Everyone who saw it thought it was cool."  Inspired by his roommate, Nick went through old magazines from the 1970s himself, pulling out favorites when time allowed.
After graduating college Nick had approximately twenty-five favorites, each of which he mounted in inexpensive frames along an entire wall in his apartment.  As the years went by, his collection "just kinda piled up gradually."  Nick first got on ebay in 2001, and used it to sell spare car parts and extra magazine ads.  "After I got rid of about ten unwanted ones I realized, hey, I made a couple of bucks doing this.  I was hooked."  He ran his first store for a decade during evenings, augmenting his income until an illness left him unable to keep up with it.  Nick sold the online store and much of its contents and gave it up…until now.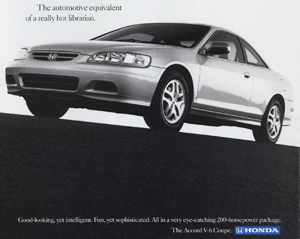 As part of the staff of Classic Cars Today Online, Nick is building up our store with items he has along with print ads and brochures we have.  "It's a little harder starting from scratch but I've had years of experience doing this.  If I could quit my job and make a living doing it, I would.  It's very satisfying because in a way, I feel like we're spreading a form of art", says Barrett.  While we've just started the store on our site, we're adding more every day until we reach our target of 4,000 items.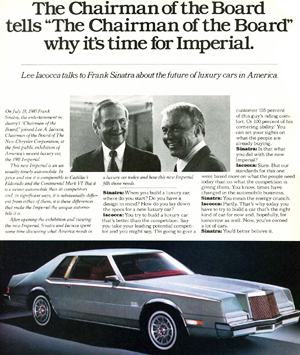 During his experience, Nick estimates half of his sales were to people overseas – most often in Japan, Germany, and the Netherlands.  "People in the Netherlands really love American car ads."  So what kind of ads sell best?  According to Nick, "Pretty much any car with a high level of fanaticism from owners will sell. Old Volvo ads always go quickest.  Good Corvette ads too.  So do older Japanese sports cars like the Mitsubishi Talon, Toyota Supra, even Honda Civic Si's.  Subaru owners, especially ones with the WRX STi model get into anything related to their cars.  But all German car brands consistently sell best – particularly Porsche, Audi, and BMW."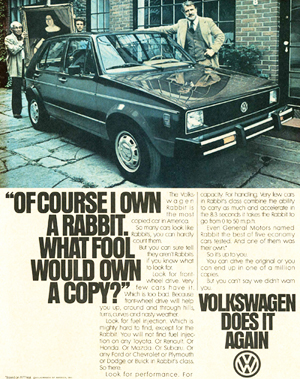 What part of keeping the store up does Nick not like as much?  "Finding the ads, making the sales, corresponding with people – that's the fun part.  The immense level of collating and filing necessary to maintain and keep track of inventory is the big time-consumer.  Because I use a cardboard piece in each envelope to ensure things arrive intact, I need to find the right grade of cardboard boxes to use.  Then cut them up.
People don't realize how much store fees, paypal fees and cost of envelopes and other materials add up.  Then there's the post office – in recent years, shipping costs for larger envelopes have more than doubled."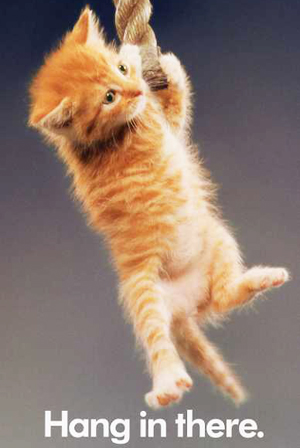 Does Nick have a favorite brand when it comes to advertising? "VW has always had the most fun with their ads.  Couple of years ago, they actually attached a greeting card to a magazine page – an apology card to a BMW owner after their 2007 Volkswagen Passat Turbo blew their doors off at a light.  They also ran a series of ads with a small paper bag attached, labeled 'Wolfsburg Hyperventilation bag'…to reduce sticker shock at other dealers.  But I think it's really for nervous passengers riding with a driver who likes to drive their car fast."
Barrett once gave a Wolfsburg Hyperventilation Bag as a gag gift to a friend that owns a VW.  "Since she wrings every bit of performance out of the car that it has, she loved it.  There've been moments riding with her when I needed something like this.  Volkswagen really gets its owner well I have to say."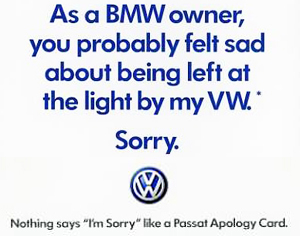 Nick also feels Mini Cooper advertisements show a sense of humor, going as far at to attach an authentically licensed "Cliff's Notes on using your Mini", detachable pages with orange paper cones that unfold for slaloming in a parking lot, a book of Mini related cartoons, and more.
At Best Of The Past Car Advertisements, we make our product descriptions as accurate as possible.  While it's not possible to show every page of a brochure, we do list its exact physical dimensions, models covered within, number of pages, and more.  If the pages aren't numbered, we count them.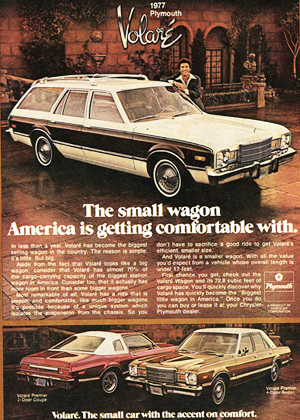 A lot of sellers don't take the time to do this, but we feel strongly that a buyer should never be disappointed.  And we never pull tricks such as sending reprints or copies of anything the way others do because that's dishonest.  The authentic item is what you want, and authentic items are all we sell.
We try to keep prices low and competitive by asking ourselves what we would want to pay, because we're collectors too.  Other people do the same thing online, but we try harder – making it a point to find and stock obscure ads others don't.  The hard part is resisting the urge to keep everything.
We offer secure checkout through ecwid and paypal, and all credit cards are accepted.