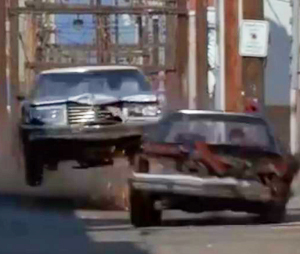 To us, a good car chase is the look on a driver's face when encountering unexpected obstacles.  It's panic on the bad guy's face who's riding shotgun because he's not in control of things.  Typically, suspension of disbelief is required when watching a car chase – especially when cars keep going after jumps from high in the air, or when vehicles involved in the chase drive against oncoming traffic at high speeds while finding gaps large enough to weave through safely.  We all know in reality that axles and control arms will bend and break, and most people tailgate too closely in everyday traffic for vehicles to weave through them for long in the same direction (much less going against traffic).
We at Classic Cars Today Online compiled this list of movies with our favorite car chase scenes – some of which you'll recognize, some of which you may not.  We also kept the list to movies with vehicles that are now classics, simply because we feel they're more interesting to look at than anything squeezed out of assembly line tubes in the last ten to fifteen years.
In keeping with some degree of reality, we stuck to ones where vehicles driven by bad guys and good guys both sustain visible damage.  That eliminated a number of favorites such as Smokey and the Bandit, Cannonball Run, The Transporter, and so many more.  We also went with the philosophy that a car chase is a pursuit scene that has its own beginning and end within a movie.
It's been said that the very best chases have at least a hint of serious intent; to be really gripped by the action you have to believe that this is a life-or-death moment for those taking part, and it must be real enough to flood your veins with adrenalin, make the hairs stand up on the back of your neck, and leave you with a tangible sense of relief when it's over.
The Indy 500 is essentially a car chase, but you're not going to enjoy watching it over and over once it's been viewed for the first time.  After that, it becomes yesterday's news.  And, cars that are interesting to look at and watch make for better car chases that can be enjoyed again and again – especially if there's a good degree of menace involved in the vehicle driven by the pursuer.
Beige Toyota Camrys just don't have the same effect as an all-black Dodge Charger or SUV, and the whine of an electric motor doesn't even come close to the rumble of a V-8 engine.  In this article, we've included links to youtube videos which will be underlined in blue.  For movies on our list below with only one car chase, you'll see the link as part of the movie title.  For movies with multiple chases, look for the links further down in the text.  Clicking on any of the pictures below will also take you to an applicable chase.
 5 GREAT MOVIE CAR CHASES YOU'VE PROBABLY SEEN OR HEARD ABOUT ALREADY…
THE 7-UPS (1973)
Roy Scheider plays an undercover New York City cop who stumbles onto two men posing as police officers who kidnap area mobsters for money.  After the two gun down Scheider's partner in a parking garage, he pursues them through the streets of New York City.
Scheider is behind the wheel of a 1973 Pontiac Ventura, and the two bad guys are in a 1973 Pontiac Grand Ville.  The same stunt team of Bill Hickman, Carey Loftin, Bud Ekins, Max Balchowsky that orchestrated chase scenes in Bullitt, Herbie & The Love Bug, Diamonds Are Forever, The French Connection, and more joined together for this movie, and we feel this is their best performance – even though sound effects and other tricks were borrowed from Bullitt.
Although the sloping streets in New York City were barely a fraction as steep as the San Francisco ones which served as the backdrop in Bullitt, this team still managed to launch cars into the air for the cameras.  Stunt driver Bill Hickman serves as one of the two bad guys in this movie.  He doesn't do much talking, but does some incredible driving – whipping the heavy, extra-large Grand Ville around corners and into traffic at high velocity.
Unlike some movies that speed up the video to make car chases appear to be happening at higher speeds, this one does not.  If you enjoy cars and gritty New York winter scenes from this vintage, you'll appreciate the 7-Ups.  It's a good movie overall, as well.
GONE IN 60 SECONDS (1974)
An insurance investigator and his team lead double-lives as unstoppable car thieves.  When a South American drug lord pays them to steal 48 cars, all but a 1973 Ford Mustang are in the bag.
As the main character prepares to rip-off the fastback codenamed "Eleanor", he is unaware that his boss has tipped off the police after a business dispute.
Detectives are waiting and pursue him through five cities as he desperately tries to get away.  This is a nice, long pursuit scene that's enjoyable to watch.  We particularly appreciate periodic views from inside the main pursuit car (A 1970 Mercury Montego), where one can see and hear it smash and bounce off other objects in the way.
THE ITALIAN JOB (1969)
This comic caper movie stars Michael Caine, Noel Coward, and Benny Hill as they plot to steal a gold shipment from the streets of Turin, then disappear with the gold bars in three Mini Coopers with a pre-planned escape route.
What makes this movie enjoyable is how the tiny Minis are used creatively to fit in spaces and do things few other vehicles can.  After passing through tunnels, jumping across roof tops, and driving down flights of stairs (indoors and out), the bandits escape pursuit – only to find themselves in an ironic predicament at the end.  The remake with Mark Wahlberg, Donald Sutherland, Charlize Theron and Edward Norton is fun, but doesn't hold up as well.
BULLITT (1968)
Steve McQueen stars in this much celebrated chase seen that used the same stunt drivers and crew as The 7-Ups referenced above.  McQueen, and undercover cop, pursues bad guys in Part 1 and Part 2.
RONIN (1998)
In this film starring Robert DeNiro, freelancing former United States intelligence agents track down and steal a mysterious package wanted by both the Irish and the Russians.
While it's hard to fully understand what's going on at any given point in this film, it's shot in a variety of European locations strictly for the purpose of conjuring up international intrigue.  Because the director of the film (John Frankenheimer) wanted to create some car chases "the old fashioned way", there are several good ones through narrow streets and highways of Paris.
In one, a 1976-80 Mercedes 450SEL 6.9 is involved – thankfully this collectible automobile only suffers minor damage.  In another chase, an early-1990s BMW 5-series takes a beating along with a variety of then-new Citroens and Peugeots.
 7 GREAT MOVIE CAR CHASES YOU MIGHT NOT HAVE SEEN…
THE MASTER TOUCH (1972)
Originally an Italian film titled Un Uomo da Rispettare, this movie stars Kirk Douglas as a professional thief who decides to do one last, high-risk heist in Italy after being released from prison.
This car chase deserves to be recognized both for originality and for comical use of tiny European cars as props.  No doubt, one scene where the pursuing car loses its entire roof but keeps going inspired the makers of Smokey and the Bandit five years later.
Although the main getaway car is a 1958 Plymouth Fury, a Dodge Dart of similar vintage and appearance doubles for it in some scenes.  The end of the chase is pretty funny.
THE JUNKMAN (1982)
This story has multiple car chases that are quite original and amusing.  H.B. Halicki, the director of Gone In 60 Seconds (the 1974 film referenced further up on this list), also directs this film.  In it, he plays a version of himself filming scenes for a sequel to Gone in 60 Seconds.
As he's working on making that sequel, jealous partners in the film industry attempt to kill him.  Naturally, car chases ensue as he follows his righteous path to the truth.
We particularly enjoy the fleet of 1980-81 Camaro California Highway Patrol cars, the way a 1981 Corvette drives across the hoods of parked cars to evade police, the way smashed passerby cars seem to separate in half, and so much more.  Plus, we've never seen a movie use a 1979-85 style Cadillac Eldorado in a car chase before.  Click here and here to see some of the chase scenes in the movie, and prepare for some laughs.
SHORT TIME (1990)
Dabney Coleman plays a police detective who thinks he is dying after a medical report mix-up.  When he learns life insurance pays out more to his family if he dies in the line of duty, he attempts to make that happen.
We think this is one of the best smash-bash-and-keep-going car chases we could find – and it's one most people overlook.  Between Coleman's 1980s Dodge Diplomat and the bad guys' 1976 Pontiac Catalina Custom sedan, these vehicles really take a pounding.
STRANGE SHADOWS IN AN EMPTY ROOM (1976)
In this 1970s Italian film set in Ottawa, Canada, a police captain searches for the man who poisoned and killed his sister.  As he closes in, a car chase ensues – with the bad guy driving an early-'70s Mustang and the police captain in a 1968-69 Buick Skylark.  This film was also retitled Blazing Magnum in some markets, and is relatively unknown in the United States.
We feel the car chase here has all the elements of a great one, with both cars becoming increasingly crumpled and damaged throughout. We like how random cars passing by are not safe either because they get rammed and smashed, and we enjoyed the way directors through in multiple replays on scenes where both cars become airborne.
THE DRIVER (1978)
Ryan O'Neal plays a top-notch getaway driver that a police detective (Bruce Dern) is trying to catch by offering amnesty to three bank robbers caught red-handed (in an unrelated heist) if they help set up O'Neal.
We put this movie at the top of the list because there is not one, but three, excellent driving scenes throughout.  In the beginning, we first see O'Neal's skill in a full-size 1973-74 Ford Galaxie 500 as he eludes a number of police cars with two bank robbers in the back seat.
In the second driving scene, O'Neill has been approached by the bandits looking to set him up.  They ask him to show a sample of his driving skill, and he does so by whipping a 1969-1970 Mercedes S-class around obstacles without a scratch – until the group annoys him.  In the final chase scene, O'Neal chases after one member of that group to retrieve a stolen locker key where payoff money was to be left.
UNKNOWN (2011)
Liam Neeson stars as a man who awakens from a coma to discover someone else has taken on his identity and that no one (not even his wife) believes him.  With the help of a young woman, he sets out to prove who he is. Neeson, in a 1994-95 Mercedes E-class, evades eastern European bad guys behind the wheel of a black Volkswagen Touareg of 2008-2010 vintage.  We like this crisp chase scene that ensues during the course of the movie.
A viewer points out in the comments field that, at 1:04 on the video, the 260 kilometer speedometer confirms the European E-class used here could only be an E500 or E420 – neither of which were ever available with manual transmissions.  But we like the split-second cuts that show a manual shifter being furiously operated from some other car, so we'll forgive that typical Hollywood slight of hand.
TERROR SQUAD (1988)
In this movie, a squad of Libyan terrorists infiltrate the city of Kokomo, Indiana and take over a nuclear power plant.  Chuck Connors stars as the counter-terrorist expert who must stop them before they blow it up.  Scenes later in the chase where the terrorists shoot up the town for no reason make this movie hard to take seriously, and the way items explode at a mere touch is comical.  As one viewer comments, the cars in this chase must have been made of kerosene.  That said, we still found this chase entertaining to watch once – but it's unlikely any of us will watch it a second time.
Although this movie was set in its present day of 1988 and most of the Ford LTD and Dodge Diplomat police cars were of correct '80s vintage, we were amused at the typical low-budget production tricks this studio pulled to save money.  More than once, a new-looking police car suddenly transformed into an older one (a 1970s Ford Granada or LTD) immediately before a spectacular crash and/or explosion was filmed.
By 1988, the only police departments using 10-year-old cars were the ones on Hollywood studio lots, so suspension of disbelief is required for watching.  We enjoyed the 1975-78 Ford LTD sedan used as the getaway car by the terrorists – even though hubcaps change or reappear between scenes.