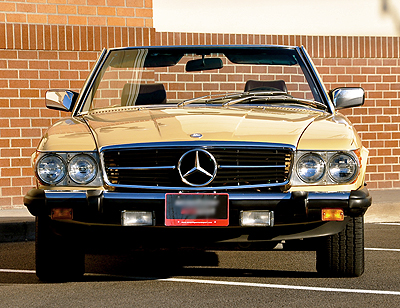 With a design run spanning model years from 1972 to 1989, fans around the globe feel the the third generation Mercedes-Benz SL is a model that most embodies the image of the company and the elements that led to its acceptance as a premiere automaker world wide.  If seeing one of the pictures in this article inspired you to read it, that's understandable.  With the exception of Benz's own 600 series limousine (produced in low volume from 1963 to 1981), the third generation enjoyed the longest production span in SL history, making it one of the most recognizable Mercedes models ever.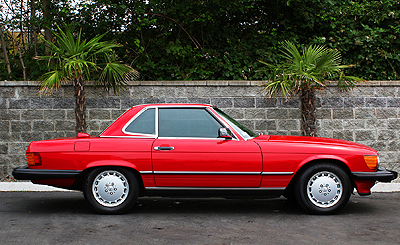 Dubbed internally as the "107 body" by company engineers, these SLs spanned 18 model years in the United States and abroad without body panel changes of any kind.  When one considers that annual sales of  107 body SLs during its second decade were almost twice as high as during its first, the only conclusion that can be drawn is that designers got this car right from the start.  The 107 found fans among a wealth of corporate executives, celebrities in the Hollywood / Beverly Hills scene, professional athletes, and rock stars alike.
(A slide show with large high-res pictures of all SL variations is at the end of this article)
The styling of this model was the beginning of a new "modern" look for Mercedes, which would be seen in all company designs introduced well into the 1980s.  Rather than accentuating stacked headlights and vertical lines as designers had done since the 1950s, the new SL emphasized horizontal ones.  Wider stances and lower overall height were accentuated with aerodynamically smoothed contours.  As it had since the first gullwing 300SL racers were built in 1952, the "SL" badge designated both "S"port and "L"ight and  4-seater SLCs based on a stretched 107-body chassis added a "C" for Coupe.  With the exception of U.S. model year 1972, all numbers on 107 SL badges accurately reflected engine size.
It's easiest to group 107-body SLs into the following categories: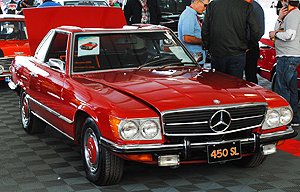 450SL  (1972 – 1980)  For the first model year only, '72 models were badged as 350SLs in the United States even though they were equipped with the larger 4.5-liter V8 designed specifically for the U.S.  From 1973-80, the designation was changed to 450SL.  1972 and '73 models were equipped with smaller bumpers shown here.  Buyers from 1972-77 could choose standard color-matched hubcaps or pay extra for 14-inch aluminum alloy wheels, and automatic climate control debuted as standard equipment for '78.  All U.S. 450SLs had 3-speed automatic transmissions.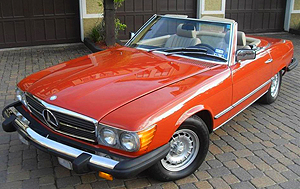 380SL  (1981 – 1985)  All 380SLs feature aluminum block 3.8-liter V8 engines and 4-speed automatic transmissions.  Interiors were updated gradually with digital radios for '81, more modern switch buttons for '82, "D-3-2-1" gear shift bezels for '83, and driver airbags and ABS brakes for '85.  14-inch aluminum alloy wheels of the design that originated in 1970 were standard on all U.S. 380SLs.  Horsepower was rated the lowest of all 107-body SLs at 155, but 0-60 times were identical to the older 450SL 's 11.5 seconds due to weight loss and extra gear in the transmission.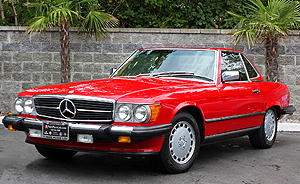 560SL  (1986 – 1989)  A larger 5.6-liter V8 was fitted to all 560SLs.  With the most power of any 107-body SL (227 hp), zero-to-sixty times dropped from 11 seconds to a very respectable 7.5 seconds.  All 380SL advancements (4-speed automatics, air bag, antilock brakes, aluminum hoods, and modern interiors) carried over on the 560SL.  New were aerodynamic 15-inch alloy wheels, a third trunk-mounted brake light, a lower front plastic air dam, standard built-in alarm systems and a limited-slip rear axle formerly not available on U.S. 107s.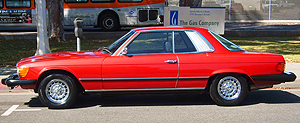 SLC MODELS  A special subset created by stretching the 107 body into 4-seat hardtop coupe form, SLCs were sold from 1972 through the 1981 model years.  Mirroring powertrain and interior layouts of each year's SL, the 450SLC spanned from 1972-80 and the 380SLC capped off the final model year 1981.
1972: THE 350SL AND 350SLC DEBUT
For the 1972 model year, the 350SL convertible and 350SLC coupe were introduced.  The "350" designation all U.S. 107s wore for the first model year was technically inaccurate, since it did not reflect the 4.5-liter V8 under hood.
What it did represent was a 3.5-liter V8 created for European models, and Mercedes-Benz's desire to maintain name continuity among continents.  This had been easier to do with second-generation SLs, when European and American versions both shared the same 6-cylinder engines.  With the passage of the 1970 U.S. Clean Air Act, lower emissions were required, and leaner air-fuel mixtures became a necessity given the limited technology of
the time.  Because this reduced power, the smaller 3.5 engine was judged too weak in U.S. form, and the larger 4.5-liter V8 was created.  It used more fuel and produced no more power than European versions of the 3.5-liter, but it did meet emissions regulations.  So for the first model year 1972, U.S. model 107s were known as 350SLs even though they were all equipped with 4.5-liter engines.  350SLs were sold in Europe through 1980 with 4-speed stick shifts, or 3-speed automatics.
Similar to the way Mercedes-Benz engines had been laid out for some time, the 4.5-liter V8 was fuel-injected and of overhead camshaft design.  (The typical "E" signifying fuel injection was not present in the model name.)  An all-independent suspension ensured nimble handling, and 4-wheel disc brakes guaranteed enthusiastic braking would not meet with disappointment or heartache.
Because of the V8's 190 horsepower and stronger torque, 4-speed automatic transmissions that Mercedes usually fitted to 6-cylinder engines were deemed unnecessary.
Consequently, 3-speed automatics were fitted with the 4.5-liter V8 motor through 1980 instead.  4- and 5-speed manuals were offered in Europe but no such transmissions were ever fitted to U.S. 107s.
1973 – THE 350SL IS REBADGED THE 450SL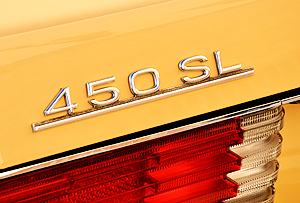 American SLs remained basically the same for 1973, with a correction of the model names from 350SL and 350SLC to 450SL and 450SLC.  It has been reported a short-lived bulletin from Mercedes headquarters in '73 directed dealers to replace 350SL badges with 450SL ones on any '72 models that came in for service.  So why was the 350SL designation even used at all in the U.S.?  It reflected the 3.5-liter V8 equipped on European market SLs, and German product planners felt a sense of continuity and order keeping using the same name in all markets.
To meet government regulations, U.S. market SL models were introduced from the start with exposed, round headlights in place of flush one-piece headlamp assemblies the rest of the world received.  While the two styles of headlamp assemblies are interchangeable, many 107 fans feel the round U.S. lights provide a nice outward curve to the car's front profile that complements its overall shape more than the flat-sided Euro lights do.  Even though regulations changed to allow square headlamps in 1975 (and later to allow aero one-piece units in 1983), Mercedes opted to keep the 107's round headlights
unchanged through 1989.  Maintaining consistency was a high priority for Mercedes product planners then, and changes were typically made for the sake of improvement only.  Because the company no longer maintains this focus today, it's difficult to imagine any modern Benz designs lasting a fraction as long without a myriad of styling "improvements".
1974 – LARGER BUMPERS ARE FITTED TO U.S. MODELS
U.S. government regulations required bumpers on all 1974 cars to survive a 5-mph crash test undamaged, so new "American style" bumpers were created for all 1974 Mercedes-Benz models.  Fitted with massive shock absorbers, these bumpers protruded roughly five extra inches on each end.  Although cleverly fitted with rubber moldings, these bumpers look more like an afterthought than an original design feature.  Once fitted on 107s for 1974, they remained unchanged through 1989.
Spy photos did surface in car magazines periodically in the 1980s of 107s caught testing with much more integrated plastic bumper pieces.  However, they never reached production in any market.  It's also interesting that these larger bumpers were never mentioned in advertising text when introduced.
1975 – CATALYTIC CONVERTERS ARE FITTED TO EXHAUST SYSTEMS
For 1975 model vehicles, the U.S. Government required all car exhaust systems be fitted with catalytic converters to reduce tailpipe emissions.  Because the 450SL's exhaust was now more restricted, horsepower dropped by 5% to 180.  However, a more noticeable problem that stemmed from these catalytic converters on 1975-76 models was "vapor lock", caused by converters being placed too close to fuel lines.  When a warm engine is turned off, the heat from the nearby catalytic converter tends to make gasoline remaining in the fuel lines boil and aerate.  While this presents no danger of explosion, a hot engine will be difficult to restart until the foamy fuel cools down to liquid form again – often requiring a wait of 15 to 20 minutes.  This hot-start problem was solved on 1977 models by placing the converter away from the engine closer to the rear of the car.  Different exhaust systems can be fitted to 1975-76s to cure the problem, so don't  make this too major a factor if looking for a good 450SL.
In response to the global 1973-74 fuel crisis, additional 280SL and SLC models were added for the European market for 1975.  Powered by a dual-overhead camshaft 6-cylinder gasoline engine of 2.8 liters, buyers could select a 5-speed manual transmission or a 4-speed automatic.  The 280SL ran through 1985 abroad, morphing into the 300SL for 1986-89.  Because they were often used as third cars for pleasure only, sales of 107s in the U.S. were not overly affected by the fuel crunch.
1976 – IMPROVED FUEL INJECTION AND IGNITION SYSTEMS INTRODUCED
1976 450SLs were equipped with a new continuous injection fuel system and transistorized electronic ignition, both worthwhile advances.  For longer life, intake and exhaust valve lifters in the cylinder heads were fitted with hydraulic cushioners – also worth having.
Wrote one automotive journalist, "On paper, the 450SL's specifications seem to be all wrong and you wonder who would buy it."
Even Mercedes advertisements of the day asked "How can a 2-seater weighing 3,500 pounds loaded down with an automatic transmission and luxury power amenities be considered a sports car?"  The answer was provided shortly thereafter.  "On the basis of performance, it could easily be called one.  But we don't limit the 450SL to that."  With V8 power, heavier construction, and styling elements from the company's larger 450SEL sedan, the 450SL  successfully tapped into the same market segment that popularized 1955-57 two-seat Ford Thunderbird convertibles.
1978  –  14 inch ALUMINUM WHEELS ARE MADE STANDARD, AUTOMATIC CLIMATE CONTROL BUTTONS REPLACE MANUAL SLIDING LEVERS

1977 models were otherwise unchanged, except for the previously mentioned exhaust system improvement to reduce vapor lock.  For 1978, automatic climate control systems were introduced as standard on 450SLs, two years after "116 body" S-class sedans (1973-80), and one year after "123 body" E-class sedans (1977-85) received them.  Instead of using manual round knobs and sliding heat control levers to set the amount of heat, a thumbwheel marked with temperature settings controls a computer.  The computer operates many servo motors that automatically open and close heater ducts to maintain a preset temperature.
As these systems age, they suffer from many glitches.  While climate control issues can be fixed, electronic components and labor to access them can be high.  Sliding levers do give a more archaic appearance than the automatic system, but if choosing between an equally nice '77 or '78 450SL, lean towards the '77 with the simpler system.
Also of note for 1978: 14-inch aluminum alloy wheels became standard in place of the color-matched steel hubcaps (aluminum wheels had previously been optional since the 1972 introduction of 107-bodies).  Sales of 450SLs consistently averaged around 6,000 units annually from 1972 through 1980, with peak year sales of 7,000 units from 1977-79.   During this time, British magazine Wheels tested a Euro 350SL and commented: "The 350SL is one of the most baffling cars to write about because there is nothing with which to compare it.  On paper, the specifications seem to be all wrong and you wonder who would buy it but, just as the bumblebee defies the laws of aerodynamics and continues to fly despite calculations that say it can't, the 350SL sells in a very successful manner."  They did go on to describe the car's driving feel as a unique combination of "solid with nimble handling".
An interesting Europe-only 107 model that debuted for 1978 was the 450SLC 5.0.  As it sounds, this was an SLC 4-seat coupe powered by Mercedes-Benz's brand new 5.0-liter aluminum block V8.  Produced in low numbers, this model existed primarily to serve Mercedes-Benz rallye competition teams.  For 1980 it became known as the 500SLC and was produced through 1981, the final year for all SLCs.  These models are easily distinguishable by a small rubber spoiler mounted on the trunk lid, and by darker paint tone (usually gray) under the side molding strips.  A few were imported to the U.S. as "gray market" cars, but they will not be easy to find.  The 5.0-liter aluminum engine would not see widespread production until introduced on the 1980 "126-body" S class, and on the Europe-only 1981-89 500SL.
1980 – LAST YEAR OF THE 450SL SEES A REVISED FUEL INJECTION SYSTEM AND HORSEPOWER DROP TO MEET MPG LAWS
1979 U.S. models were essentially unchanged, but 1980 450SLs received a revised fuel-injection system and a horsepower cut from 180 to 160 to meet tightened 1980 government fuel economy regulations.  This was the last year for the 450SL, and U.S. sales remained at a steady 6,129 units.  A revised center horn pad for the steering wheel did away with 1970s ribbed patterns for a more modern look that lasted through 1984.
1981  –  380SL DEBUTS WITH MORE MODERN POWERTRAIN AND DIGITAL RADIO.  THE LAST YEAR FOR SLC COUPE.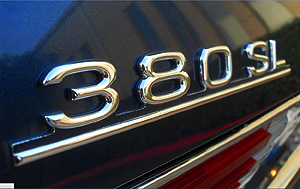 After being around for nine model years, the 450SL badge had almost become an institution.  When the gas-guzzling '70s ended and better fuel economy became a necessity, both the 4.5-liter and Euro 3.5-liter V8s were replaced by one new engine.  A smaller, more efficient version of the company's all-aluminum 5.0 V8, the lightweight 3.8-liter V8 was given life on "380SL" and "380SLC" models for 1981.
In addition to a lighter engine block, 380SLs underwent further weight reduction with hoods made of aluminum instead of steel.  4-speed automatics with an extra low-start gear were fitted across the board on all 107s.  Horsepower was rated at only 155, but with the weight loss and extra gear, 0-60 times were identical to the older 450SL 's 11.5 seconds.
1981 was the last production year for the SLC, and therefore the only production year of the 380SLC.  Styling was often referred to as love-it-or-hate-it, but low production numbers make these a solid investment for all climates.  The SLC had its fan base, but was discontinued after 1981 when the "126 body" S-class coupe introduced for the '82 model year became the new sheriff in town.
The 450SL's antique-looking Becker radios were finally gone, replaced by thoroughly modern digital ones with push buttons and an electronic tuner for '81.
Sales of 107-bodies soared when the 380SL was introduced.  450SLs had sold at the rate of approximately six- to ten-thousand units annually.  After the new version of the same-looking 107 came along, sales averaged 11,000 each year through 1989.  Perhaps some of those numbers were from displaced SLC buyers who could no longer purchase their favorite model.  More than likely it was the healthy number of repeat buyers who enjoyed their 450s so much.  After all, the typical 107 buyer with means simply didn't hesitate if they suddenly wanted the newest and most modern version of their old favorite.
1982  –  MODERN SWITCH BUTTONS AND CLIMATE CONTROL BUTTONS INTRODUCED
The most noticeable change for 1982 107s was the updating of interior switchgear to the more modern appearance introduced on 1980 S-class sedans and 1981 E-class models.  Switches were now black plastic, heating controls were streamlined, and chrome trim pieces were dropped.
The freshened switch gear immediately made previous interiors seem like something from the 1950s.  Looking quite elegant, the 1982 look lasted through '89.  While this sounds like a minor change, the difference is noticeable enough to be more of a tiebreaker than you think.
1983  –  NEW "D-3-2-1" GEAR SHIFT GATES ALLOW MANUAL SELECTION OF FIRST GEAR
Transmission shift gates on 4-speed automatics were revised on 1983 107s to display "D-3-2-1" (instead of "D-S-L"), and featured an extra detent.  This allowed activation of the extra-low first gear for acceleration if the driver so chose (transmissions normally started in second gear under normal throttle).
1984  –  DUAL TIMING CHAINS REPLACE TROUBLE-PRONE SINGLE ROW ONES
3.8-liter V8s in 1981-83 models were built with timing chains that were more prone to stretching, wear, and even breaking.  Mercedes-Benz realized this was a weakness and corrected the problems by using dual timing chains on 1984-on all models.  When 1981-83 models came in for timing chain replacement service, they were replaced with dual-row units because after 1983, Mercedes simply stopped making the single-row units.  If looking at an '81-83 model, ask the owner if the original timing chain has been replaced – odds are good by now it has.
1985  –  ANTI-LOCK BRAKES AND DRIVER SIDE AIRBAGS INTRODUCED
American 380SLs saw the introduction of standard anti-lock brakes on '85 models.  Although the system was actually introduced on Euro models in the late 1970s, Mercedes-Benz did not choose to bring it to the U.S. until it had been tested and developed further.  The ABS components have been reliable over time, but as with all complex Mercedes-Benz systems, parts and labor can be expensive when repairs crop up.  If you're looking for a 107 to be a pleasure car that will never see bad weather, odds are you may never need ABS brakes.  Braking systems before 1985 were inherently excellent by themselves, so you may not want to rule out an older model because of this.
One note: If looking at a car with anti-lock brakes, check the brake fluid reservoir for clean, clear brake fluid and ask to see service records which will indicate how often brake fluid was changed (ideally every 2 to 3 years).  Dirty brake fluid that has absorbed moisture over time is especially detrimental to sensitive ABS valves and pumps, so history is important.
Driver-side airbags were introduced as standard equipment late in the 1985 model year, so some '85s have them and some do not.  Steering wheels equipped with airbags like this '85 can be spotted at quick glance, and feature a larger center piece with "SRS" (Supplemental Restraint System).
1986 through 1989  –  THE 560SL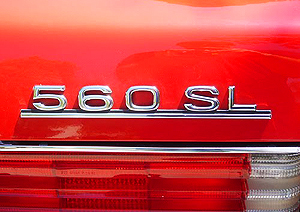 "Gray market" importations of 500SL models (introduced for '81) with the larger, more powerful Europe-only 5.0 engine were so popular that Mercedes-Benz was inspired to cash in on the demand for more power. Similar to the early 1970s when a larger more powerful engine was developed for U.S. needs, the 5.6-liter V8 was born for 1986 – creating a more desirable model for U.S. sale.  The 5.6-liter's 227 horsepower rating was far greater than the 4.5, 3.8, or even the Euro 5.0-liter V8s.  0-60 times dropped from 11 seconds down to a respectable 7.5 seconds.
380SL advancements (4-speed automatics, anti-lock brakes, driver airbag, aluminum hoods, and modern interiors) were all featured on the 560SL.  New for '86 were handsome, 15-inch aerodynamic alloy wheels, a third trunk-mounted brake light, lower front plastic airdam, standard built-in alarm systems and a limited-slip rear axle formerly not available on U.S. 107s.  Black urethane doorhandles replaced chrome finished ones to enhance the look of slickness the 560SL aimed for.
Leather seating became standard instead of optional, and the vinyl "M-B text" material, legendary for its durability, was gone.  First-year 560SL sales were a record 15,000+ in the U.S., due to a combination of repeat sales and a booming economy.  The remaining three model years saw sales return to the 1980s average of 11,000 units per year.
From 1986-89, European 107s saw the same upgrades.  A new 300SL was powered by a freshly-introduced 3.0-liter 6-cylinder (which replaced the 2.8-liter six) and continued to be available with a 5-speed manual transmission.
Additionally, a new Euro-only 420SL (1986-1989) was the direct successor to the 380SL, powered by that year's enlarged 4.2-liter V8.  Automobile importation laws tightened during 1986, so this was the last model year of gray market cars making it into the U.S.  It's possible to
find '86 300SLs with manual transmissions; and these have been generally well-kept by owners who recognize their unique appeal.  Prices will likely be higher for 300SL's due to desirability, and they will grow in value extremely well as classic cars in the future.
All three phases of 107s have survived the test of time extremely well; and there are many good ones to choose from.  These are cars that most often have been pampered as third vehicles without ever seeing daily driver use in bad weather.  Values of good 450SLs and 380SLs have pretty much stabilized regardless of year, and these are your best bet for low complexity and cost.  If power and modern amenities are what you seek, go for the 560SLs – but be prepared to pay a bit more up front and slightly higher insurance rates.
Rubber seals and soft tops begin to suffer from dry rot after about ten to fifteen years regardless of how the car is stored.  If 107s have been used frequently in bad weather or have not been garaged, they tend to develop rust in their side panels.  Check this carefully if shopping for one.  Remember, the design was finalized in 1970 when far less was known about avoiding rust, so this problem can affect even the most recent '89 560SLs.  Rust almost always starts in wheel wells and spreads from the inside out.  Seams under the front bumpers are also weak spots for 107s, and rust may tend to form here.
Save money and aggravation by spending as much as you can afford on a 107 purchase up front.  107s are expensive to restore, and you may find yourself sinking $10,000 to $30,000 easily.  If you already own one, consider yourself very fortunate.  The many envious non-owners would tell you to take special care of that beautiful classic, and garage it!
CLICK ON ANY OF THE PICTURES IN THE SLIDE SHOW BELOW TO EXPAND TO FULL SIZE.  USE ARROWS UNDERNEATH PICTURES TO SCROLL BACKWARD OR FORWARD.