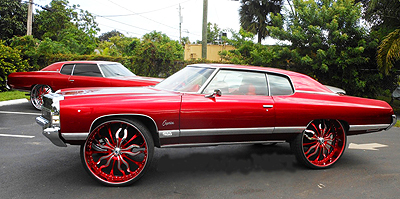 Being fans of all the 1971-1976 full-size General Motors models, we at Classic Cars Today Online have watched the growing trend of fitting these "B-body" platform cars with oversized rims and lift kits to create cruisers generally known as "donks".  Depending on personal preference, lift kits can raise these modified '70s cruisers up in the air by an almost unnoticeable two inches over factory ride height.  Or, they can be used to prop these cars and extra three feet up in the air in order to provide wheel well clearance for steamroller-sized 32-inch rims.  Passenger cars jacked up high enough to look down at Cadillac Escalades are also called "hi risers" or "skyscrapers".
EXACTLY WHAT IS A "DONK"?  (See slideshow at end of article for large, high resolution pictoral description)

While the term "donk" is loosely used to describe any full-size or mid-size American car from the 1970s, 1980s or later that's been given the high-rise big wheel treatment, it actually is a specific reference to 1971-76 Chevrolet full-size models only.  These Chevys are by far the most popular choice and make up approximately 70 percent of donks you're likely to see on the road at any given time.  During the 1971-76 design run, multiple Chevrolet models shared the same body panels, differing in trim levels and price only.
For example, there was the base Biscayne (offered in sedan and wagon form for 1971-72), the slightly higher-trimmed Bel Air (offered in sedan and wagon form for 1971-75), the Impala sport model (coupe, sedan and wagon from 1971-76), and top-of-the-line Caprice luxury version (convertible, coupe, sedan and wagon from 1971-76).  Because coupes and convertibles are a what most donk builders choose, Impalas and Caprice models are their only two options due to the fact that base model Biscayne and Bel Air versions came in 4-door form only.
HOW THE TERM "DONK" BEGAN
Depending on who you ask, some say "donk" is short for the term "donkey" used to describe the animal depicted on original Chevrolet Impala logos (an impala is a medium-sized African antelope).  Although a graceful, leaping antelope looks very little like a donkey, the connection isn't hard to understand really.
Others will tell you "donk" is shortened from the "badonka-donk" slang word used to describe the large and downward-curving rear end design of all 1971-76 Chevy, Buick, Cadillac, Oldsmobile, and Pontiac B-body variations.
"ALTERNATE DONKS" – OTHER POPULAR CHOICES FOR MODIFICATION
"Box" : 1977 – 1990 Chevrolet Caprice and Impala

When General Motors full-size models were redesigned and downsized across the board for 1977, styling of the Caprice and Impala models took on more angular, square-shaped proportions.  Because of its radical styling departure from the 1976 look, any full-size Chevrolet of this generation (1977-1990) given the big wheel treatment is known as a "Box".
"Bubble": 1991 – 1996 Chevrolet Caprice and Impala SS

This is the popular term for the last generation of the Chevrolet Caprice and Impala (1991 – 1996) that were built on a large, rear-wheel-drive platform.  To reflect their rounded aerodynamic shape, any lifted 1991-96 Caprice or 1994-96 Impala SS that's customized with oversize wheels is known as a "Bubble".
Other 1971 – 1976 full-size General Motors B-body platform vehicles
Also extremely popular for donking are the 1971-76 Buick Centurion, LeSabre and Electra; Oldsmobile Delta 88 and 98; and Pontiac Catalina, Bonneville, and Grand Ville versions of the Chevy Impala B-body design.  Styled similarly to the Chevys, these other models have equal appeal for their styling – but ultimately are not as commonly sought after because Impalas are seen as the purest, most authentic fashion statement.  Additionally, Cadillac deVille and Fleetwood models of 1971-76 vintage are growing in popularity as stylish alternatives to Chevys. 

Other mid-size General Motors models
Also popular for conversion are other mid-size General Motors models including 1973-77 and 1978-88 Chevrolet Monte Carlos, Chevrolet Malibus, Oldsmobile Cutlass Supremes, Buick Regals, and Buick Centurys.  While some Chevrolet El Caminos of this era are also given the donk treatment, most of these car/pickup truck hybrids that are modified are converted into 4×4 monster trucks by a different crowd.
WHY WE APPRECIATE DONKS…
However one feels about this customization of older cars, we feel it's important to note that many of the donor vehicles used are often beat up, rusted, and ready for the junkyard.  Since donk building involves putting new parts into the suspension, brakes, and running gear, most owners start with cheap examples that have come to the end of their lifespan anyway.  And because making any of these cars into an expression of personal taste is the main goal, a full custom paint job entailing restoration or replacement of corroded body panels is almost always done.
The end result – classic coupes, sedans, and convertibles from the 1970s and 1980s that would otherwise go to the crusher or be sold for parts are instead brought back to life.  Although they may be far from original when completed, we generally consider replacing rusted parts with new ones, fitting new interiors, rebuilding power trains, repainting the body, and refinishing underside components to gleaming cleanliness to be a restoration no matter how you slice it.


style="display:inline-block;width:728px;height:90px"
data-ad-client="ca-pub-6686786659266892″
data-ad-slot="4693784960″>

Donks are so impractical to use as daily drivers, they simply will not see the kind of daily use in bad weather that will bring on rust and corrosion again.  Once they are restored, they will stay that way.  Whether or not they are kept in donk form or returned to stock condition should the fad pass, a vehicle that's restored and continuously valued is one that's here to stay for future generations to enjoy.  That is why we consider the donk craze just as valuable as any other form of automotive passion that leads to worthy makes and models being saved from extinction.
-Sean
CLICK ON ANY OF THE PICTURES IN THE SLIDE SHOW BELOW TO EXPAND TO FULL SIZE.  USE ARROWS UNDERNEATH PICTURES TO SCROLL BACKWARD OR FORWARD.