(…Continued from prior article series on 1950s, 1960s, and 1970s wire wheel covers)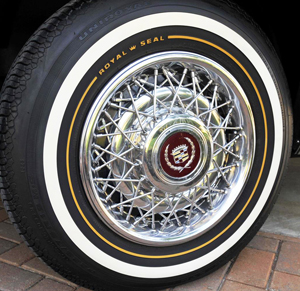 I've always been a fan of simulated wire wheel covers.  While being an automotive accessory extremely subject to personal tastes, one cannot deny wire wheel covers are uniquely American in flavor.  Mostly shunned by Europeans and Asian brands, they have populated the automotive landscape in the United States for decades since the early 1950s and have earned a spot in classic car nostalgia.
Similar to automobile styling, wire wheel cover designs from different manufacturers tend to evolve similarly to one another and follow the same trends over time.  During the 1950s, it was cris-crossed spoke patterns with a flat overall shape.  In the 1960s, it was parallel spokes running straight out from center caps (many with two- or three-pronged "spinner" caps in the center to imply sports car performance).
(A slide show with high-resolution pictures of all wheel covers discussed is at the bottom of this article.)
The 1970s began with carryover wire wheel cover styling from the late 1960s trending towards two layers of straight, parallel spokes.  The effect of one layer of spokes atop (yet still parallel to) another created an illusion of crossing spokes when viewed from the side.  This look would evolve but be maintained during the first half of the 1970s until flat wire wheel covers with actual cris-crossing spokes (similar to 1950s styling) made a return during the later part of the decade.
THE 1980s – WIRE WHEEL COVERS PEAK IN POPULARITY
By 1980, all of the "big three" American automakers had already developed wire wheel cover styling featuring larger center caps and multiple layers of cris-crossing spokes they would use through the entire 1980s.  However, two holdouts to outdated '70s styling were final-year 1980 Dodge Aspens/Plymouth Volares still using a '71 Chrysler wheel cover design, and 1980 American Motors vehicles using a cone-shaped wheel cover look they created in the 1970s.
After the end of model year 1980, the early-'70s look had been washed away completely.  Buyers felt the new look of crisp, squared-off styling on American cars was a good match with wire wheel covers, whitewall tires, and vinyl roofs…making that combination de rigueur for the 1980s.
Below, a timeline charts changes to wire wheel cover styling during each year in detail:
1980 – very little was new since 1979:
 Chrysler continued using its 15-inch wire wheel cover created in 1979 for rear-wheel-drive vehicles on 1979-81 New Yorkers, 1979-81 LeBarons, 1980-83 Chrysler Cordobas, and related Dodge / Plymouth models.  During the 1980s, all Chrysler rear-wheel-drive models would be dropped except the Chrysler Fifth Avenue / Dodge Diplomat / Plymouth Fury that continued unchanged through 1989.
Ford continued using its 15-inch wire wheel cover design introduced on 1978 Lincolns, offering it on the full-size 1980-89 Lincoln Town Car, 1980-83 Lincoln Mark VI, and Ford LTD (Crown Vic) / Mercury Grand Marquis through 1987.
Ford debuted a smaller 14-inch version of the Lincoln wheel cover for use on the 1980-82 Ford Thunderbird / Mercury Cougar and 1981-82 Ford Granada (these identical covers would also be later used on 1983-84 Ford Mustang / Mercury Capri "luxury" versions).
Ford also continued using 14-inch wire wheel covers introduced in 1977 on small and midsize Ford Pinto and Granada through 1980, and Fairmont and Mustang through 1982.  These were "Eighties" in styling, being flat with two sets of crossing spokes.
General Motors continued using 15- and 14-inch wire wheel covers originally introduced in mid-1978 for large and midsize rear-wheel-drive cars.  As well, a 13-inch version of these wheel covers was introduced for the company's new-for-1980 line of compact, front-wheel-drive cars: Chevy Citation, Buick Skylark, Olds Omega, and Pontiac Phoenix (all continued through 1985).
1981
AMC introduced a 14-inch wire wheel cover almost identical to Chrysler's 1979 design for use on all Spirit, Concorde and Eagle models.  Two layers of cris-crossing spokes surround a large, knob-shaped center cap.  These were used through 1987 until AMC was purchased by Chrysler and dissolved.
Cadillac redesigned its 15-inch wire wheel cover on front-wheel-drive Eldorados and Sevilles to be flatter in shape with a less protruding center.  These were used in the same form through the end of both models' design run in 1985.  Sister cars Buick Riviera and Olds Toronado continued with the same covers used since 1979.
Oldsmobile revised its center cap on 15-inch wire wheel covers.  While similar to 1978-80 centers, the new one is just different enough to catch the eye ever so slightly.
1982
Chrysler created a new 14-inch wire wheel cover to use on all the company's smaller, front-wheel-drive cars coming to market for that year.  After being a popular option on 1982-88 LeBarons, they were soon offered 1983-1988 New Yorkers, 1984-88 Dodge Caravans, and other sister Plymouth and Dodge versions of each.
Datsun became the first (and only) non-American marque to offer wire wheel covers in the U.S. on its 1981-84 style Maxima wagon.  Wheel cover styling was derivative of major American brands of the day and featured two layers of crossing spokes surrounding a large round center cap.  As a note, Datsun changed its company name to Nissan for the '84 model year.
General Motors created a 14-inch wire wheel cover for use on its first front-wheel-drive, midsize car line introduced this year: Oldsmobile Cutlass Ciera, Buick Century, Chevrolet Celebrity, and Pontiac 6000.  All four models used this same wheel cover with differing center cap logos through 1986.
As it had done the prior year with its 15-inch wire wheel cover, Oldsmobile equipped 14-inch versions with similar, larger center caps.  Spoke patterns remained the same as they had been since 1978, and continued in this new form until the last mid-size, rear-wheel-drive '88 Cutlass Supreme Classic rolled off the assembly line.
1983
Ford brought out a new 14-inch wire wheel cover with a round center cap and revised crossing spoke pattern for use on midsize, rear-wheel-drive cars such as the new-for-'83 Mercury Cougar, Ford Thunderbird, Mercury Marquis (replacing Zephyr model), and Ford "LTD" (replacing Fairmont model).
For 1983-84, the Ford Mustang / Mercury Capri graduated from using 1977-82 Pinto style wire wheel covers to 1980-82 T-Bird ones for two years before getting a version of the above referenced wheel cover for '85.
1985
General Motors brought to market the compay's first "large" front-wheel-drive vehicle platform for 1985.  Smaller than rear-wheel-drive models they replaced, Cadillac's new Sedan DeVille, Olds Ninety-Eight and Buick Electra now featured 14-inch wheels in place of 15-inchers.  Cadillac used a shrunken version of its 1981-85 Eldorado wire wheel cover to fit over them.  Breaking tradition, Buick and Oldsmobile each created their own new designs.  Cadillac used its version through 1988, Buick and Olds kept theirs through the 1990s.
The Oldsmobile Calais and Buick Somerset Regal (later renamed Skylark) debuted, both offering the same 13-inch wire wheel covers from the 1980-85 style Olds Omega / Chevy Citation / Pontiac Phoenix / Buick Skylark during this first model year only.
Ford now offered the '83 Cougar / Thunderbird style 14-inch wire wheel cover on the Mustang LX through 1991.
1986
Cadillac revised the center cap on its 15-inch wire wheel covers it had been using since 1976, now in use only on the rear-wheel-drive Fleetwood Brougham.  The former round chrome centerpiece was replaced by one featuring a red plastic background with an embedded Cadillac logo.  These covers would stay the same through 1992, the final year of the Fleetwood Brougham's 16-year design run.
General Motors took the 14-inch wire wheel covers introduced the previous year on Olds Ninety-Eights, Buick Electras, and Cadillac Sedan De Villes and offered them on similarly downsized '86 Olds Toronados and Eighty-Eights, Buick Rivieras and LeSabres, and Cadillac Eldorados / Sevilles.
Olds Calais and Buick Skylark (previously called Somerset Regal) received new 13-inch wire wheel covers similar in appearance (flat, with larger center cap surrounded by two layers of crossing spokes) to the above referenced G.M. 14-inchers.
1987
General Motors fitted front-wheel-drive midsize Buick Centurys, Olds Cieras, Chevrolet Celebritys, and Pontiac 6000s (introduced for 1982) with a new 14-inch wire wheel cover.  All used identical versions with differing center caps logos. (These covers all most resemble the look of the '85 14-inch Buick Electra cover.)
1988
General Motors' 1978-1987/88 rear-wheel-drive midsize coupes (Buick Regal, Olds Cutlass Supreme, Pontiac Grand Prix) were redesigned and replaced with front-wheel-drive models.  Of these three, only the '88 Regal offered wire wheel covers (the same 14-inchers from the '87 Buick Century).
Lincoln replaced its 1982-87 rear-wheel-drive Continental with a new front-wheel-drive model.  Breaking 1980s tradition, they created a new wire wheel cover with parallel, non-crossing spokes very similar to 1960s designs.  A simple, brushed aluminum round center cap featured an embossed Lincoln logo.  Being a car of modern aerodynamic design, the wire wheel cover option proved a turnoff to buyers.  So few Continentals were equipped with them that the option was dropped after 1989.
1989
Chrysler introduced a new 14-inch wire wheel cover design (replacing the 1982-88 style) for front-wheel drive vehicles.  Instead of two sets of spokes, the new wheel cover had one set of criss-crossing spokes surrounding a large plasticized center cap.  Black in color, either "Chrysler", "Dodge", or "Plymouth" was emblazoned across the center. These lasted through 1993.
The new-for-'89 Mercury Cougar and sister car Ford Thunderbird got the 1988 Lincoln Continental wire wheel cover with parallel spokes.  Instead of Lincoln's logo, center caps featured either a cougar head or a winged bird.
Cadillac's front-wheel-drive Sedan De Ville, Eldorado, and Seville all upgraded from 14-inch to 15-inch wheels.  The wire wheel cover formerly used on 1981-85 Eldos/Sevilles was brought out of retirement for use on all three '89 models.
Buick's front-wheel-drive Riviera was also upgraded to 15-inch wheels for 1989.  A completely new wire wheel cover with crossing spokes was created, featuring a large "R" Riviera logo.
CLICK ON ANY OF THE PICTURES BELOW TO EXPAND THEM TO FULL SIZE.  SELECT EITHER OF THE SMALL ARROWS UNDERNEATH THE PIC YOU'RE LOOKING AT TO SCROLL BACKWARD OR FORWARD