by contributor Pete Abbate…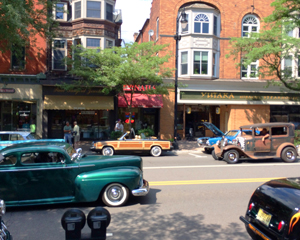 In the summer of 1989, a local car club known as the Classic Cruizers began a "cruise night" tradition on Friday evenings in the downtown area of Somerville, New Jersey.  A cruise night is usually defined as an evening during which cars drive slowly in bumper-to-bumper fashion through small towns.  As parking spots on the streets become available, cruisers will dock one by one and enjoy the unique camaraderie that comes from inspecting each others' rides and sharing details.
A 25-YEAR TRADITION
According to some, the origin of Somerville cruise nights goes as far back as the mid-1980s when the whole thing began with a service station owner in town.  But through the efforts of the Classic Cruizers, the tradition of cruising Main Street was brought to the downtown area.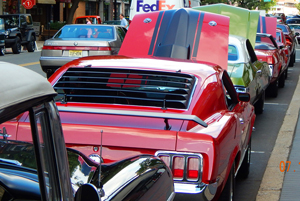 As the years passed, word spread throughout surrounding towns about the weekly gatherings in Somerville, and more classic car owners began to show up.  One city block length of cars parked with hoods up gradually became two blocks, and then three.  Visitors from neighboring towns became visitors from neighboring counties.  And after the rise of the internet, they became visitors from other states.  The weekly gatherings grew in popularity to the point where the Borough of Somerville took over organizing the event in 2009 – helping to facilitate a regular on-site DJ as well as other live goings-on.
TODAY, SOMERVILLE CRUISE NIGHTS MAY BE THE LARGEST WEEKLY EVENT OF ITS KIND IN THE NATION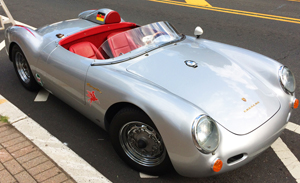 Today, Somerville Friday night cruise-ins are one of, if not the, largest weekly events of its kind in the United States.  Regular attendees feel that it is, and a cursory glance of license plates from Maryland, New York, Delaware, Connecticut, and Pennsylvania makes their point hard to argue.  On any given Friday evening, you'll find classic American, British, German, Italian, and even some Japanese makes and models.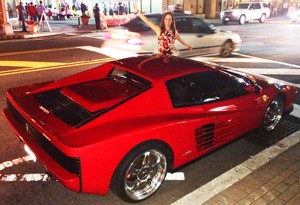 A count of 120 classic cars during peak time one week indicated exactly 40% of them were Chevrolets of various models and years.  And that figure does not include an additional grouping of 25 Corvettes brought by a car club that parked together in front of the borough courthouse. No other one marque comes anywhere close to that figure because there are so many interesting and eclectic classic vehicles that appear. For example, we saw DeLorean, Ferrari, Fiat, Jaguar, Mercedes-Benz, and Datsun 240Zs as well as a great representation of all American iron.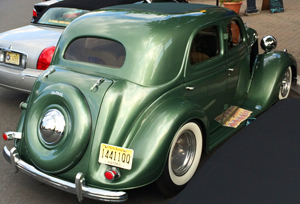 One participant who's been bringing his car to Somerville since 1990 reflected back on the early years of cruise nights, commenting, "Back then, you mostly saw American iron from the 1930 through the '60s – with some muscle cars and full-size American convertibles from the first half of the '70s.  Seems like wherever you get a turnout of classic cars, the bulk of your turnout is cars that go back 50 to 60 years from whatever the year is at the time.  Cars from the 1970s and '80s weren't really fully appreciated at that point."
A HIGH RESOLUTION PICTURE SLIDE SHOW IS AT THE END OF THIS ARTICLE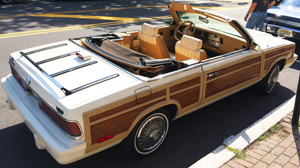 That, of course, has changed.  After one quick look around, we noticed a 1975 Cadillac Calais, 1976 Cadillac Eldorado convertible, 1979 Lincoln Mark V Bill Blass edition, 1975 Chevrolet Caprice convertible, a 1977 Monte Carlo, and two Pontiac Grand Ville convertibles of 1970s vintages.  There were even two 1986 Chrysler LeBaron Town & Country convertibles participating in the show – an unlikely occurrence because only 501 such models were made and the two owners did not know each other.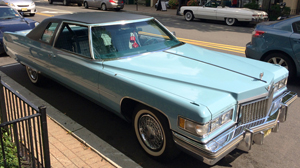 Somerville Borough officially closes off parking spots on the street to be used for classic cars only beginning at 5:00pm.  However, we were there at 2:00pm and noticed classic cars beginning to pull in wherever spots opened up.  For those interested in bringing a car to the show, the timeline below reflects what we observed on a typical summer Friday in downtown Somerville.
CRUISE NIGHTS TYPICALLY START IN THE MIDDLE OF THE DAY – A TIMELINE…
2:30pm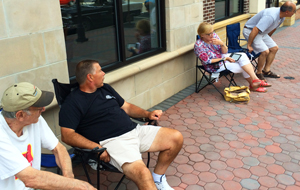 Approximately 25% of the cars parked along the streets are classics, and showgoers we spoke to say the earliest cruise night members get there at 2:00.  According to one group, "Somerville cops hassle classic car owners that early sometimes, but not always. They say the parking meters must be fed up until 5:00, but they really don't like to give out parking tickets. Downtown stores and restaurants thrive on Friday nights, and tickets would be bad for business."
3:00pm
Just under half of the cars parked along the streets are classics.
3:30pm
72% of the cars on the streets are classics. The last block on the outskirts of the downtown area is not filled yet and has mostly empty spots.
3:45pm
A parking spot opens up and is taken within 20 seconds by a gentleman in a 1959 Edsel.
4:15pm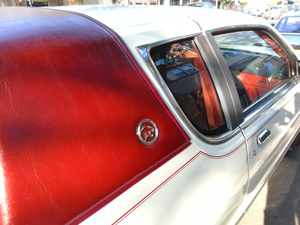 No empty spots exist anywhere at this time, and classic cars have started filling in all the striped no-parking areas adjacent to intersection corners.
Some of the regular showgoers are throwing "firecracklers" at each other, and 85% of the cars parked on the streets are now classics.
5:00pm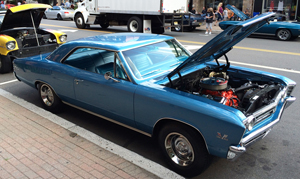 Over 100 classics have docked in place. 95% of the cars parked along the street are classics, and the other 5% are newer everyday vehicles that haven't left yet. Streets are full of classic vehicles cruising up and down with drivers patiently trying to find a spot. One that we talked to commented, "Yeah, guys who come all the time get attached to their favorite parking spots so they come earlier and earlier to make sure they get 'em. Makes you wonder if anyone here works and has a job, but the earlybirds look like they're retirement age."
5:30pm – PEAK TIME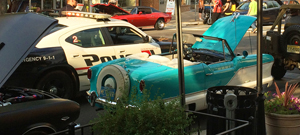 By now, every car on the street is a classic except for one or two hold outs. We noticed Somerville police asking some vehicle owners to remove cars parked on the striped no-parking areas due to the heavy volume of traffic coursing through the streets everywhere.
6:00pm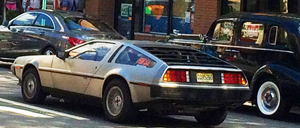 At this time, every single parking spot was occupied by a classic.  This remains the case until about 7:30 when Cruise Night attendees begin leaving.  Parking spots are immediately filled until about 8:30pm because the streets are full with classic car owners just arriving, cruising up and down looking for a place to dock.
8:30pm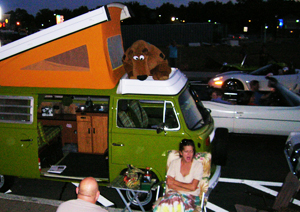 Empty parking spots begin appearing, increasing in number as the evening progresses. There is still a lot going on in the streets through 11:00pm when businesses begin closing.
Somerville Cruise Nights continue well into October and classic car owners turn out any Friday night the weather isn't threatening.  If it's been awhile since you went cruising on the strip, a trip to Somerville, New Jersey may be well worth your time.
We hope to see you there.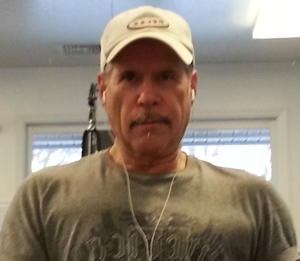 -Pete
(Scroll down to see full-resolution pictures taken during our mid-July visit to Somerville Cruise Night)
CLICK ON ANY OF THE PICTURES BELOW TO EXPAND TO FULL SIZE.  USE BACK ARROW TO RETURN HERE, OR SCROLL THROUGH THE PICTURES USING SMALL ARROWS UNDERNEATH EACH PICTURE.