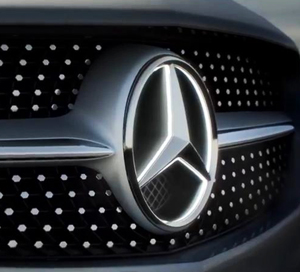 We've been curiously watching the publicity Mercedes-Benz has chosen to release about its new "Illuminated Star" grille insert. The assembly, which uses light emitting diodes (LEDs) to create a glowing Mercedes emblem at night, is a new factory option on  "Sport" versions of C- and E-class models, SUVs, and "four door coupe" models such as the CLS and CLA. The company features it most prominently in current television commercials airing – showing a 2014 CLA at speed with one glowing in its grille. These days with every new vehicle from Kias to Jaguars to Teslas featuring what looks like a string of bright Christmas tree lights positioned in their headlight assemblies, the LED look that Audi started in 2008 simply isn't distinctive anymore by itself.
While it's strictly a matter of personal preference, the Illuminated Star comes across as a tasteful way of taking a promising styling queue to the next level and creating something original with it. I maintain it is tastefully done because unlike many of today's LEDs used as daytime running lights, the Illuminated Star is discreetly dim instead of being overly bright. How not bright is it? Unfortunately, it is not possible to quantify. After calling several dealership parts departments and speaking with several folks at M-B USA headquarters, no one was able or prepared to answer how many lumens (a lumen is a measurement of light similar to one candlepower) the Illuminated Star puts out.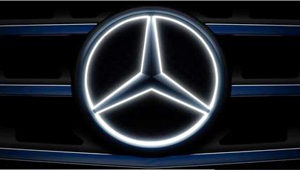 For reference, LED daytime running lights found within the headlamp assemblies of most modern vehicles have light output of anywhere from 130 to 900 lumens. A typical halogen headlight bulb will put out approximately 1,400 lumens, and a high-intensity (HID) headlight bulb can put up to 3,000 lumens. A 60-watt bulb puts out approximately 800 lumens, but since it is not focused with a parabolic reflector, it does not appear as dazzling to the naked eye. Studying the how the LED strips are arranged inside the Illuminated Star, it becomes clear they are not focused to project light forward either – putting this fabulous option in the realm of ornamental, background lighting. The LEDs used to outline the Mercedes emblem appear completely solid and unbroken, so the whole thing looks clean and orderly – not haphazardly strewn and crude-looking the way some Christmas-tree LED daytime running lights appear.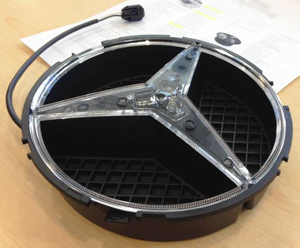 However great the Illuminated Star may seem, none of us will get to drive though the night with it lit because it does not operate while the vehicle is moving. After reading standard press-kit information on the Illuminated Star, I struggled to understand the logic of why this is so. Because it appears glowing with white light in U.S.-market television commercials, a natural assumption would be that the Illuminated Star functions in synch with headlights – staying lit for the duration the headlights are operated, wherever the vehicle goes. Not so. The star stays lit for 40 seconds upon unlocking the car. When a door is opened, it will remain illuminated for up to five minutes. But if the car is started or the doors are closed, it turns off. After driving and parking, the Star will show itself again for 60 seconds after the engine is switched off. The vehicle headlight switch must be set to Auto, surround lighting must be operational (via the instrument cluster), and it must be dark outside.
After speaking with knowledgeable Parts Department representatives, we were able to confirm the Illuminated Star assembly has its own self-contained smart module. The module senses the amount of light outside, and it also requires data from the vehicle's main computer to determine conditions are right for it to operate. So bypassing it with a hard wire connection to the battery won't do much good. It's hard to say how many customers will opt for this first version of the Illuminated Star when they realize they've been had by the commercial, but it can now be ordered on new C-, E-, GL-, GLK-, M-, CLA-, and CLS-classes as a $550 option installed. It can be be retrofitted to applicable 2008-newer C-Class sedans, 2012-newer C-Class coupes, 2014 E-Class sedans and wagons, 2011-newer E-Class coupes, 2006-newer CLS sedans, and 2010-newer GLK sport utilities.
Dealers are expected to charge $480 for the part plus several hours labor for installation which includes running necessary wiring (control computers already on the vehicle do not need to be reprogrammed though). Illuminated Stars are not compatible with Mercedes Distronic cruise control because that system has radar-based input sensors already located within center star emblem assemblies.
Mercedes-Benz, you've got a potential winning product on your hands – but not in its current form. We can only hope the next generation Illuminated Star you choose to develop is a less compromised unit that will function the way customers truly want it to. And we hope you do it soon because, rest assured, Audi will.