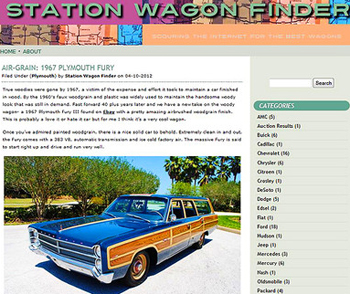 If you appreciate classic cars and enjoy finding fresh commentary about your favorite models, vintage automotive advertisements, memorabilia, original commercials, or any related subject you can think of, the internet is a vast and unparalleled resource.  From finding pictures of an extremely rare model in a junkyard to stumbling across images of four-door Mustangs and Camaros created by the factory as a styling exercise, a good automotive-related find is worthy of sharing and holding onto the same way a unique baseball trading card can be.  Plus, the internet is the best source when it comes to news about upcoming car shows or swap meets in your area.
While actual cars for sale, auction values, and parts availability are constantly changing and worth keeping abreast of, classic cars themselves as a whole are an evergreen subject.  They are unchanging.  They are not seasonal, and they are not here today / gone tomorrow.  For example, the basic facts about 1968-70 Dodge Chargers will always be the same.  The cars themselves are  well past the point of being tomorrow's, today's, or week-old news.  They've survived the test of time and have come full circle to today where they enjoy everlasting period piece appeal.  Syndication, if you will.  What was relevant and interesting about them 5, 10, or 25 years ago will remain constant in the future.  Unlike current automotive news or trends, factual articles written about classic cars take a long time to "age".
(Slideshow is at bottom of article)
Because we ourselves at Classic Cars Today Online are always exploring the internet, we share eleven excellent web sites that never come up short when it comes to interesting and original content, articles, and commentary related to classic cars.  Some of them are offshoots of larger publications and others are independently created, but all of them below are worth a look…
CURBSIDE CLASSIC

 
http://www.curbsideclassic.com/
"You've just joined the endless automotive treasure hunt. We prowl the streets to find and document any interesting car regardless of whether it's a genuine classic or a tired beater. Our motto is 'Every car has a story', and we're going to coax one out of each of them: a unique place in automotive history, a treasured family heirloom, a childhood memory, a wild youthful drive or tragic breakdown, memories of automotive love or disdain."
Lots of interesting automotive perspectives can be found on Curbside Classic.  One article narrows down which cars have the largest percentage of overhang extending outwards from front and rear wheels combined as a percentage of overall vehicle length.  The winner was the 1980-83 Lincoln Mark VI coupe.  Other articles offer interesting commentary on a 1985 Ferrari Mondial being used as a family car in Los Angeles, a 1978 Oldsmobile Delta 88 diesel that defends the General Motors V8 diesel engine that caused the company so much grief, a Renault R10 "When being a better Volkswagen just isn't good enough", crossing the USA in a 1969 Chevrolet pickup with a camper, and so much more.
One of my personal favorites on Curbside Classic is a recent bittersweet homage to a 1973 Pontiac Grand Ville convertible for sale on the side of a rural highway.  The author personified the car as a woman who, now turning 40, still retains her characteristics that others find charming.  He brilliantly captures her insecurity because she, like many of us, is extremely apprehensive facing an uncertain future we have no control over.  As a potential new owner stops to look at her, she hopes he might turn out to be one that treats her with dignity.  
"She sat staring at the lightly traveled highway, looking rather lonely on a warm, overcast summer day.  It was an experience she had not endured previously, although she knew the intent; this process just didn't get any easier, especially with age…For a girl with a few years about her, she knew time and relationships had been kinder to her than most.  There was a little bit of rust beneath the chrome of her wheel arches as well as some chipped paint, both the automotive equivalent of laugh lines.  Given her life, she wore them with pride."
COLLECTIBLE AUTOMOBILE MAGAZINE's FACEBOOK PAGE
http://www.facebook.com/CollectibleAutomobile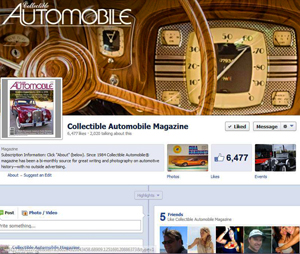 While this is not an actual web site, Collectible Automobile Magazine editors always create some of the most interesting topics of discussion to follow on their scrolling Facebook page.  For example, they may run a series of hard-to-find police vehicle advertisements from the 1950s through the 1980s.
Or show a used car dealer's newspaper ad from thirty years ago – asking viewers which used cars in the selection they would buy if given $3,000.  One discussion of readers' favorite aftermarket wheel designs brought out a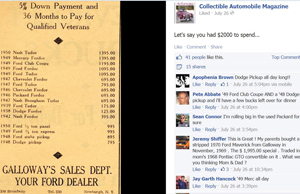 wide variety of debate.  In addition, their Consumer Guide Daily Drive includes many "top five" classic car subjects that are always amusing, and covers current automotive industry news thoroughly.  The magazine itself has been in publication since 1984 and has always distinguished itself with in-depth, well-written feature articles on both American and foreign classics.  Whether they're covering 1971-76 full size Pontiacs or Packards from the 1940s, you can always find original pictures of styling mockups the manufacturers created for those vehicles created during their design gestation.
STATION WAGON FINDER
http://www.stationwagonfinder.com/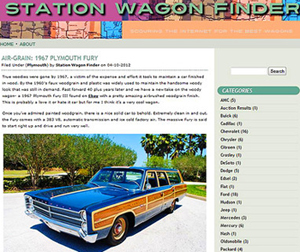 The site creator describes a love for station wagons that began in his youth when riding in a series of Chevrolet wagons his family owned during the 1960s and 1970s.  He does not sell any vehicles and is not a dealer, but created the site as a reference guide of classic station wagons that are for sale by others across the internet.  Featuring over 100 wagons, Station Wagon Finder displays great color pictures of each and does an impartial writeup of all models.  With everything from a 1967 Plymouth Fury wagon with wood trim that is painted on by airbrush (it looks extremely real even from 5 feet away) to 1980s Mercedes-Benz Diesel 300TD station wagons, there's something for everybody here.
JAY LENO'S GARAGE
http://www.jaylenosgarage.com/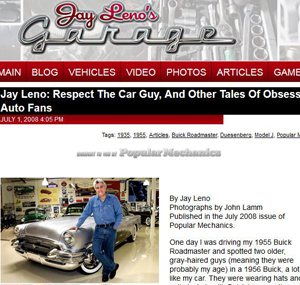 In his twenty-plus years as the host of NBC's Tonight Show, Jay Leno has accumulated the means to pursue a deep automotive passion – one he shares in depth on his web page (also as a columnist for Popular Mechanics magazine).  After reading Jay's commentary on a wide range of classic car subjects, one quickly realizes he isn't about showing off what he has. Rather, what the reader experiences is a humble guy who has a genuine interest in sharing experiences and knowledge gained.  From cars powered by steam to a 1948 Chrysler Town & Country convertible "retromodded" with modern brakes, suspension, and engine from a Dodge Viper, Jay's page is always an original and interesting read.  His commentary on current and past happenings in the auto industry is extremely insightful and humorous, one that can only come from having a wealth of knowledge from doing one's homework.
SAVE THE ENZOS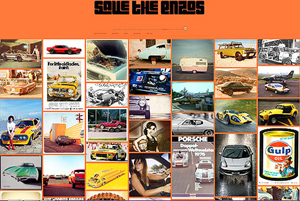 This is a website with a high level of artistry and creativity that will take any car fanatic down memory lane.  The main page features a "slice of life" collage of old pictures, promotional photos and ads all based around the automobile submitted by readers.  Visitors may notice a winter scene with a young boy bundled up on a go-kart in front of a 1960s Corvette Sting Ray coupe equipped with whitewall snow tires sans hub caps – just the way it was done in the old days.  Or the eye might catch on vintage futuristic automotive drawings, street scenes or concert parking lot scenes from the 1960s and 1970s, movie still shots, or humorous promotional photos.  For those that enjoy beautiful female models, there's plenty of images here as well.
Site creator Michael Spinelli also manages two other automotive internet applications that can be accessed from here: http://www.youtube.com/drive that collects track and racing videos from Youtube, and Jalopnik.com which takes a humorous look at automotive subjects.  With articles exploring racecar drivers that try to beat one another to their hotel in the cheapest, most underpowered rental cars to a Volvo that survived a small plane crashing on it virtually intact, make sure you have at least an hour of free time to explore when you visit.
BRING A TRAILER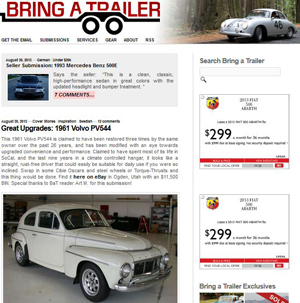 The mission of Bringatailer.com is to incorporate barn finds, rally cars, and needles in the haystack into one spot to help the guide classic car purchaser through a maze of trickery and disappointments that lurk out there in the world.  According to the website, "Finding great vintage cars online all too often involves sifting through hundreds of hopeless projects or overpriced dealer inventories to find that one car you've been looking for.  We pick the winners and save you the trouble… the best bargains, the best dream cars, and the best rarities."
Their claim is correct.  Bring A Trailer favors regularly-driven real world classics and vehicles with well chosen period-correct modifications.  They most often skip the blue chip restorations and trailer queens unless they offer something unique.  "Deep pockets can buy a big-dollar restoration, but they can't buy good taste or driving passion."  Well said.
MOTOR TREND CLASSIC
http://www.motortrend.com/classic_cars/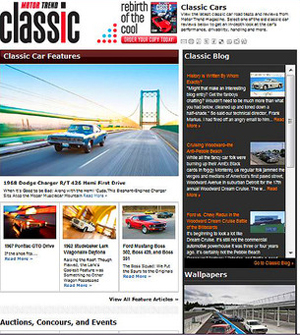 With the larger resources of Motor Trend Magazine behind it, this sister publication offers in-depth classic car features written today with high-quality pictures that only modern photo equipment can provide.  On their website, one can read about a small conversion company in the 1950s that converted 1956-57 Chevy Bel Airs to miniature Cadillacs with derivative fins and rear fenders, a 1968 Dodge Charger R/T 426 Hemi "road test", or an all-1971 comparison drive featuring a restored Jeep Wagoneer, Chevrolet Suburban, and International Travelall.  Interesting commentary articles such as "When Japan ruled the world" look back at the industry when the 1991 Lexus LS400 and 1991 Acura NSX put European carmakers in a humble position.  This is a great magazine and an even better web site.
HEMMINGS MOTOR NEWS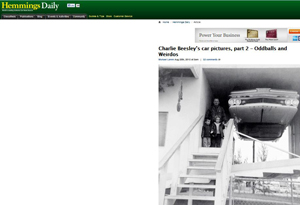 Hemmings Motor News is a monthly magazine that's been catering to traders and collectors of antique, classic, and high-end sports cars since 1954.  In addition to being known as the place for classified vehicle ads and parts for sale, Hemmings also focuses on editorial content on a level that matches the depth of many popular glossy car mags. Hemmings website offers all the goodies the magazine does and since it's updated daily, there's always interesting things to be found here.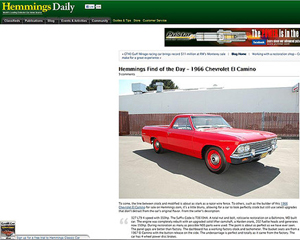 The "Find of the day" section contains short articles, each with a particular vehicle and owner's story.  While it's easy to assume Hemmings might focus only on well-known classic models, there's everything from a 1964 Datsun 1200 pickup to a 1970 Lotus Elan to a 1940 Plymouth Woodie Wagon in this section.  A vehicle Value Finder lets visitors find recent classified prices for any year, make and model.  If you want to know about car clubs, museums, and auctions in your area, you'll find current info here.  Plus a wealth of informative articles pertaining to restoration, classic car transporting, and more.  Last but not least, visitors can browse the Hemmings classified section and find some of the nicest-condition classic cars for sale in the United States.
THE TRUTH ABOUT CARS
http://www.thetruthaboutcars.com/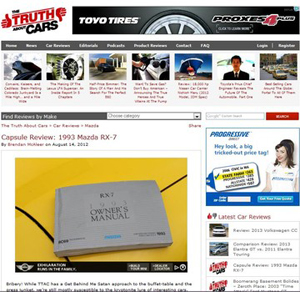 If a sense of humor applied to one's subject of interest makes for good conversation and interesting reading, then The Truth About Cars delivers a great website experience for car fans.  I particularly enjoyed one feature several members wrote after discovering a vast junkyard in Colorado near Pike's Peak – the proprietor of which had a penchant for collecting Beetles in various stages of dune buggy metamorphosis, school buses, American Motors vehicles, and Cadillacs.  Of note, there was even a rare 1979 or 1980 Oldsmobile Cutlass Supreme coupe built with a 4-speed manual transmission (on-the-floor shifter) and GM 5.7-liter diesel V8 engine.  A section on the website takes a look back at car models we may have forgotten such as a 1985 Mazda RX-7, 1990 Dodge Daytona Turbo, 1988 Buick Reatta, 1977 Mustang II, and 1989 Jeep Grand Wagoneer to name a few.  Current news and features of interest abound on the site, with a writeup about the Lexus LFA, a self-driving Audi that's faster around a racetrack than most drivers, how to buy a beater, and more.
OLD CARS WEEKLY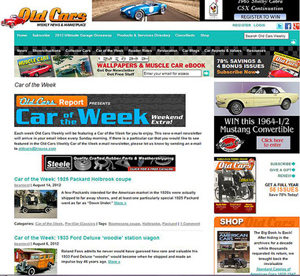 This website always has interesting Reader's Rides, blogs, restoration tips, and resources as well as a more in-depth focus on cars of the 1930s, '40s, '50s, '60s, and muscle cars.  A recent article covered the last Mopar vehicle to be built with a classic 426 cubic inch Hemi engine (a 1971 Dodge Charger R/T) and its journey to a restoration shop in Ohio.  The '71 Charger should make its debut in fully restored condition at the Mega Mopar Action Show in Virginia on September 22, 2013, and I know I will be following for updates.  A "Car of the Week" section always features noteworthy classics from 1969 Boss Mustangs to a 1963 Corvette, and even a 1927 Chrysler.
HOW STUFF WORKS AUTO SECTION
http://auto.howstuffworks.com/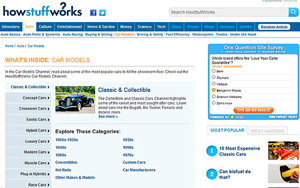 As the website name indicates, it's all about how things work on How Stuff Works.  This website is extremely interesting to look through, especially since the writers enjoy taking a detailed look at things we take for granted in daily life.  For example, in the automotive section, articles can be found on how car washes, car crushers, automotive proving grounds, recalls, and German autobahns are designed and how their functions have been improved over time.  For those of a more technical nature, they examine the insides of car batteries, flying cars, and more.  Classic car models are also reviewed – recent articles cover 1940s and 1950s Cadillac LaSalle concept cars and 1956-57 Packards.  Current topics such as the design of the next Mustang, plug-in Hybrids, and a wealth of videos are featured also. Interest stories such as "10 most beautiful automotive drives" and "Six car names you won't see again" are fun to look through and share with others.