When Mike Grady purchased his '66 Corvette Sting Ray convertible in September 1980, he figured he would simply clean it up a little (the body had four different paint color layers on it plus primer), have some fun cruising with lady friends, and eventually rebuild the engine at a later point when he was able to obtain a second car to get around in.  "I thought after that maybe I'd sell it, make a little money, and get something else.  I was 22 then, and wasn't thinking long term".
(A slide show and full-size pictures are further below in this article.)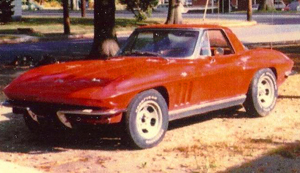 Mike reflects how when he first got the Corvette, the engine ran poorly, front panels were damaged and cracked from a minor accident, and the body had multiple coats of paint on it – none of them that matched the original silver color given to it at the General Motors Saint Louis, Missouri assembly plant.  Since he worked as a mechanic at a machine shop at the time, he was able to rectify engine performance quickly.
"The upholstery was pretty bad.  It was split up and shrinking at the seams everywhere.  My seats looked like they had a bit of a thinning hair problem."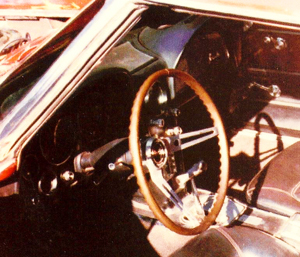 Mike was able to ignore the upholstery and rough exterior for a while up to a point.  "Well, the steering wheel had a crack with a sharp edge at the top of the rim.  It was that one little thing, my hand running over that cracked edge one day, that finally got me started on my restoration project.  Because I decided I really liked the car and wanted to keep it.  I just couldn't deal with it being a mess anymore".
So in 1981, Mike took his Vette off the road to begin restoring it, and thirty years later in 2011, he was finished.   During that time a number of vehicles passed in and out of his life including a 1966 Pontiac Tripower GTO (equipped with three carburetors), a 1969 Oldsmobile Cutlass 4-4-2, a 1976 Pontiac Grand Prix, and a '71 Norton Commando motorcycle along with numerous Harley-Davidsons.  "I can't even begin to tell you how much I learned here.  These cars are time-consuming and they're not cheap", he adds.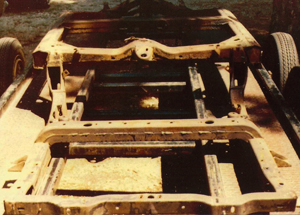 "That first year I took the suspension off the car, sanded all the fiberglass panels down, then primered everything with epoxy paint.  After that I took the motor out and rebuilt it.  Then…it promptly sat unfinished from 1981 to 1998."   During those years, Mike had to reassemble the suspension and move the Vette several times to ensure a roof stayed over its head.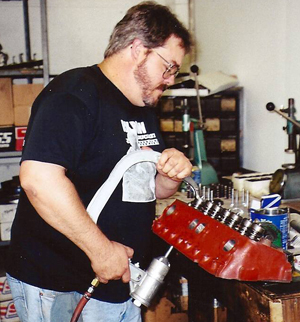 Because the motor was still out of the car, "moving" the Vette entailed the use of a flatbed truck.  When a friend of his once suggested he put the top down and ride inside his car while it was being flatbedded, Mike declined.  "That's how movie studios always film someone in a car for a driving scene.  Maybe if Spielberg had asked nicely, I'd have thrown a scarf on and done it.  But nah."  He got started and worked intensely on the Corvette again from 1998 through 2001, paused for six years, then continued gradually and steadily from 2007 until 2011 when his car stood before him fully restored, key ready to be turned.
Please give the slideshow a few seconds to queue up initially.  Pictures seen here are visible in full size further down.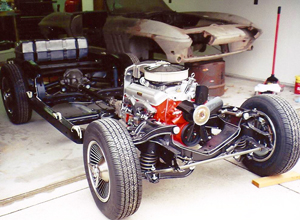 One of the most time-consuming parts in the beginning was getting all of the original undercoating off.  After a great deal of grunt work heating and scraping the hardened deposits, Mike's consolation was the fact that the undercoating had in fact completely protected the car's steel frame from rust.  However, the right front corner of it was bent due to a mishap that occurred in the 1970s.  "At this point, I had the body completely off the car so the frame went to a body shop to be straightened it out.  Thankfully, things came out perfect."  Later, Mike obtained a front clip from a '63 Corvette to replace his damaged one.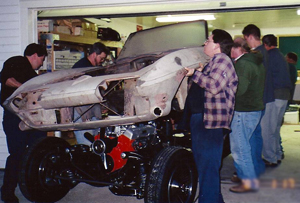 Aside from chrome work and paint application, Mike restored every inch of the car himself with original-specification new parts.  "I could have had the car together and on the road much sooner, but I was never interested in doing that until I had the time to remove, refinish and reassemble everything right.  I wanted the details to feel as good as the car looked on the outside, so I didn't cut corners."  To ensure that, Mike thoroughly disassembled everything that moved on the car – replacing degraded insulation, washers, plastic, o-rings, seals, rubber stops, or whatever was needed.  The only non-original parts on Mike's '66 Corvette are the American Racing Torque Thrust wheels. Since the longevity of that custom wheel design spans back to the early 1960s, we consider that an authentic "upgrade".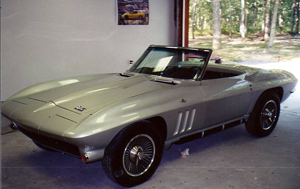 Regarding the Sting Ray's power train, Mike kept everything original to enhance authenticity.  "I always liked small-block 327 motors better.  Big-block 427s tend to overheat and have lifter problems.  And to me, the big-block motors just don't look as good in the engine bay either.  327s have the better looking finned valve covers."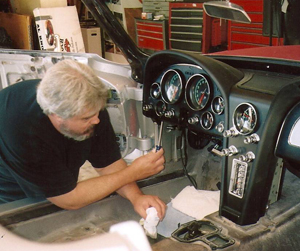 Further reflecting about his journey with the Vette, the majority of Mike's memories surrounding the experience are positive.  "It was either a lack of time, lack of space, a lack of money, or any combination thereof that made things easy to put off.  Restoring a car – do it if you like the journey.  Even a lot of times when things aren't going right, you look back on it when you're all done – and you realize what was really the most enjoyable was the process itself."  Currently, Mike has found a new project and is working on restoring a '61 Ford Thunderbird convertible for his wife.
We wish Mike continued enjoyment on his journey…
BODY STYLE: 2nd generation Corvette (1963-1967)
ENGINE: 327-cubic-inch small block V8  (4.0-inch bore x 3.25-inch stroke)
TRANSMISSION: 4-speed manual
ORIGINAL FACTORY BASE PRICE: $4,084
ORIGINAL CURB WEIGHT: 2,998 pounds
PRODUCTION NOTES: A total of 17,762 Corvette convertibles and 9,958 coupes were produced for the 1966 model year.  While a 3-speed manual was the base transmission offered, GM estimates only 2% of all '66 Vettes were so equipped.  89% featured the 4-speed manual, and the remaining 9% were built with automatic transmissions.  Approximately 20% were built with optional power steering.
CLICK ON ANY OF THE PICTURES BELOW TO EXPAND TO FULL SIZE.