Shopping for an economical new car on a budget but don't like the look of most "modern" economy cars?  If you appreciate classic automotive design, you have more choices than ever this year.  Witness the recently-introduced 2012 Fiat 500, redesigned 2012 Volkswagen Beetle, and Mini Cooper (in same form since 2008).
(Slideshow and comparison of vehicle specifications is at the end of article)
While all three remain faithful to their forebearers' long-running designs and model names from past decades, they are well-engineered modern cars in every sense of the word.  Noise, vibration, and harshness at speed are low, and each of these are as fun to drive as they are frugal on gas.  Even in bare-bones base form, today's reincarnations feature advanced fuel injected overhead-cam engines, 4-wheel disc antilock brakes, power windows, power locks, modern stereo systems, factory maintenance plans, and full airbag crash protection..standard.
And while all three are two-door hatchbacks, none of them are direct competitors on paper.  Each has a different size, shape, power rating, driving feel, weight, and rear seat capacity from the other.  Yet buyers tend to cross-shop these models often due highly to the fact that they are all stylish reboots of classic designs.  So I decided to bring a friend along to compare all three because their classic charm would appeal to either of us the same way if buying a small economy car.  Because the main point of buying such a vehicle would be to keep costs low,  we sought out base models with the minimum of options.  Being 6-foot-3, I often have a major problem fitting comfortably into small cars so I take that into consideration in my comparison below.
We couldn't take any of them to a racetrack for scientific testing, but I'll tell you how each one feels in the real world that all of us drive in 99 per cent of the time.
2012 FIAT 500 "POPULAR" (Base model)
The first thing that struck me about the Fiat 500 was how light the steering felt at all speeds, especially parking.  The 16-inch aluminum wheels on the 500 I tested were an option size up from up the base model, and their lower-profile sidewall height (195/45-16) complemented the car's light weight to make for sharp, accurate steering.
The engine revs smoothly and freely but unfortunately leaves a lot to be desired during around-town acceleration in 1st and 2nd gears.  My driving partner who came along and I actually wondered if the clutch was slipping.  After seeing only 45 miles on the odometer we chalked up the sluggish feel to a 101 horsepower rating and low torque output.
A 5-speed manual is the only row-it-yourself transmission choice on all trim levels, and while I'd normally say a 6th gear would allow for more relaxed highway cruising, the 500's engine likely needs those higher revs to fend off sluggishness at higher speeds.
Inside, the front seat area was impressively roomy.  Moving the driver's seat all the way back, I was able to stretch my legs comfortably.  My friend observed at this point that the back of my seat was literally touching the rear seat cushion though – so driver comfort levels would change significantly if more passengers were aboard.  And while there was only one inch of space between the edge of the driver seat cushion and the door, I nevertheless found a very comfortable resting position for my left arm atop the window ledge.  Kudos to the engineers who configured door panel height.
We were both impressed with the 500's comfortable ride over rough pavement.  Even with the optional 45-profile tires our test car was wearing, the Fiat gave us the softest and most supple ride of all three cars tested.  While it leaned more than others around turns, we both felt the car's overall light weight was a big factor in preventing it from sliding into a skid the way heavier cars would.  In fact, tossing this featherweight around in sharp corners was extremely fun – at no time did it feel out of control.  The experience made us recall the saying "It's more fun to drive a slow car fast than a fast car slow".
In short, we feel the Fiat 500 offers a great deal for its base price of $15,500.  Despite its shortcomings, this is a car either of us could live with as a commuter vehicle.  I only wish it came in 4-door form (click here to see a proposed 4-door 500 image).
2012 MINI COOPER base model
BMW has been Mini's parent company since 1994, and their engineering style is felt immediately behind the wheel of all Cooper models including the base version we tested.
The Mini takes the crown as the sports car of the group with the firmest steering feel, lowest roof height, and closest-to-the-ground seating position.  As the only one of the three with a 6-speed manual, the closer gear ratios allow brisker acceleration in 1st and 2nd gears around town where it can really be enjoyed.  Although its power-to-weight ratio is about the same as the Beetle, the base Mini simply feels faster – launching as if it had a small, low-pressure turbo installed.
Ride was firm but well-cushioned on the model we tested with its higher-profile 175/65-15 inch tires.  Stiffer springs kept the car from leaning much in spirited driving around twisty spots we put it through.   My associate and I agreed even though the Mini only weighed about 160 pounds more than the Fiat, it could not be similarly tossed around with one finger on the steering wheel.
We noticed slightly more road noise making its way into the cabin in the Mini, no doubt a concession of using less insulation material to keep weight down.  However, noise, vibration and harshness levels were not unpleasant in any way.  The Mini felt the most buttoned-down at higher speeds without being jarring.
While the Mini was nowhere near as roomy overall as the larger Beetle, front seat comfort for a 6-foot-3 driver was by far the best of the three.  Unlike the other two, my right knee was completely unobstructed thanks to a narrow, well-designed center console.
While the edge of the driver's seat was equally as close to the door as the Fiat, a deeply-sculpted armrest running the entire length of the Cooper's door panel felt like the most natural place to rest a left arm.  With the driver's seat all the way back, we noticed 3 inches of space until the rear seat cushion began.  Seemingly minor things, but when factored together I felt I could drive from New York to Florida in this car and not be fatigued.
2012 VOLKSWAGEN BEETLE 2.5  (Base model)
If the Mini feels like a BMW, then the redesigned 2012 Beetle feels like a Mercedes S-class in comparison.   Measuring 2.3 feet longer than the Fiat and 1.8 feet longer than the Mini, the VW offers real rear seat passenger room for adults.  I climbed in the back and could sit up straight comfortably – a far cry from the fetal position needed to squeeze beneath the curving roofline of a friend's '02 Beetle.  Perhaps that makes up for the Beetle's curb weight being almost 600 pounds more than the Fiat and 400 pounds more than the Mini.
Quarter mile and zero-to-sixty times for the Beetle and Mini are virtually the same (see details further down).  Because the Beetle's 5-cylinder engine really has to get revving in order to move the car's near-3,000 pound mass, acceleration has a very different feel from the Mini's jackrabbit launches.  The Beetle gains speed gradually yet steadily in the manor heavy and powerful electric trains do.  Perceived speed is always much lower than actual speed in the Beetle around town, or on the highway.  This one is a stealth cruiser that must be watched.  A 6-speed manual would provide a livelier feel, but is not available in the base model.
Prior complaints about the last generation Beetle feeling flimsy, cheap and unpadded have been answered with the new one.  It rides serenely in the manner a luxury car should, transmitting almost no road noise and preventing any vibration and harshness from getting through.  We noticed it was almost impossible to hear the engine during all stages of our road test.  Firm Germanic steering keeps the Beetle rock-steady at all speeds, although the car's extensive width serves to create a big-car turning feel rather than a sporty one.  Perhaps that is an illusion, but that's what it seemed like compared to the Fiat and Mini.
To reduce side crash injuries, Volkswagen typically installs both front seats as far inboard as possible.  This creates a 3-inch gap between each front seat and door panel, space that many feel would be better spent on kneeroom in the center area.  Areas to rest one's left arm on the driver side door were not as naturally placed as in the Fiat or Mini.
In all, the 2012 Beetle 2.5 is the most smooth and refined feeling of the three, and though it was actually less comfortable for me as a tall driver, it's the most realistic choice for anyone who needs to carry passengers in the rear.  Next year, a Beetle Turbo debuts as well as a Diesel model – both should satisfy demands for instant thrust and fuel efficiency the 2.5 base model lacks.
My own take: I would want to buy the Beetle for myself the most, but would end up buying the Mini Cooper due to its superior comfort level.  If I needed a family car, I would buy the Beetle but spend the extra money for an automatic transmission so my right knee would not need to move against the center console as much.
-Sean
COMPARISON DETAILS:
Volkswagen Beetle (2012)
Mini Cooper
Fiat 500 (2012)
Base price (with manual trans):
$19,795
$20,200
$15,500
Brakes:
4-wheel disc antilock brakes standard on all three
4-wheel disc antilock brakes standard on all three
4-wheel disc antilock brakes standard on all three
Stability Control:
Standard
$250 option
Standard
Standard transmission:
5-speed manual
6-speed manual
5-speed manual
Optional automatic transmission:
6-speed auto ($1,100)
6-speed automatic ($1,250)
6-speed automatic ($1,100)
Standard engine:
2.5-liter 5-cylinder (170 horsepower – dual overhead camshaft, 4-valve-per-cylinder designs
1.6-liter 4-cylinder (121 horsepower – dual overhead camshaft, 4-valve-per-cylinder designs
1.4-liter 4-cylinder (101 horsepower – dual overhead camshaft, 4-valve-per-cylinder designs
0-60 Times (manufacturer claims with manual transmission):
8.0 seconds
8.1 seconds
9.8 seconds
Quarter mile times (as tested by
Motor Trend
):
16.4 seconds
16.4 seconds
17.3 seconds
Curb weight with manual trans:
2,939 pounds
2,521 pounds
2,363 pounds
Vehicle size, in inches:
168 long x 71 wide x 58 tall
147 long x 66 wide x 55 tall
140 long x 64 wide x 60 tall
Covered maintenance:
3 years/36,000 miles
3 years/36,000 miles, including brakes and wipers
3 years/36,000 miles
Factory warranty:
3 years/36,000 miles; Powertrain – 5 years/60,000 miles
4 years/50,000
4 years/50,000 miles
Standard tire & wheel size:
215/55-17 inch; Aluminum wheels are standard
175/65-15 inch; Aluminum wheels are standard
185/55-15 inch; Aluminum wheels are $500 option
Fuel required:
Regular unleaded
Super unleaded
Super unleaded
EPA mileage rating:
22/31
29/37
30/38
Alarm system:
Key computer chip immobilizer systems; alarm is standard
Key computer chip immobilizer systems; $500 option
Key computer chip immobilizer systems; break-in alarm requires premium audio package $1,250
Bluetooth and Ipod jack:

Standard
$500 option
Standard
Satellite radio:
Standard radios feature CDplayer
Standard radios feature CD player; satellite radio standard
Standard radios feature CD player; satellite radio requires $1,250 premium audio package
Spare tire:
Compact spare tire standard
Compact spare tire standard
Compact spare tire is a $350 option that replaces standard can of fix-a-flat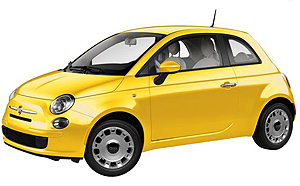 See the Fiat 500 official webpage to "build" and price a 500 by selecting various colors and option of your choice.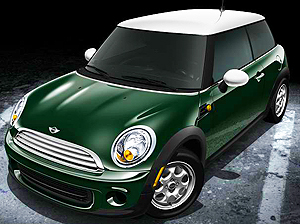 See the Mini Cooper official webpage to "build" and price a Cooper by selecting various colors and option of your choice.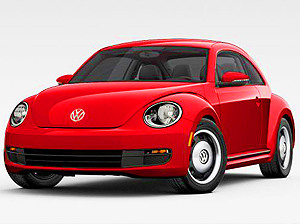 See the Volkswagen Beetle official webpage to "build" and price a Beetle by selecting various colors and option of your choice.
CLICK ON ANY OF THE PICTURES IN THE SLIDE SHOW BELOW TO EXPAND TO FULL SIZE.  USE ARROWS UNDERNEATH PICTURES TO SCROLL BACKWARD OR FORWARD.