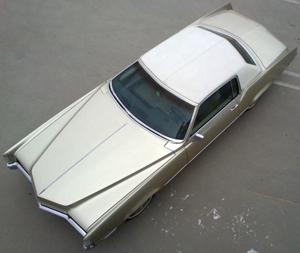 The Cadillac Eldorado that debuted for the 1967 model year was a car way ahead of its time, and unlike any that wore the Eldorado nameplate before it.  While the phrase "ahead of its time" may connote something being misunderstood or not received well initially, the Eldorado was immediately admired by people of all age ranges and socioeconomic groups.
(A comprehensive picture slide show of 1967 through 1970 Eldorados is at the end of this article)
Before dealers could even unload new Eldorados off delivery trucks in the fall of 1966, almost all of the planned 15,000 units of production already had down payments on them (almost 20,000 ended up actually being produced).  The new model brought Cadillac sales to record heights, and the "mod" styling with sharp, chiselled edges strongly influenced successful Eldorado designs for decades to come.
Along with another General Motors car developed on the same "E-body" platform (the Oldsmobile Toronado, introduced a year earlier for '66), they both advanced the state of "personal luxury car" design as well as front wheel drive geometry adopted by all U.S. and foreign automakers today.    Recently I saw one at a car show, and marvelled at how even though this design only lasted four model years (1967-70), its clean good looks are still fresh today.
CHARTING THE YEAR-TO-YEAR VISIBLE CHANGES (see slideshow for pictoral narration)
1968:
Front brakes were upgraded from the 1967 model's drum style to discs.  Rear brakes remained drums through 1970.
Front turn signals moved from the bumper to the fender edges.
A new 472 cubic-inch V8 engine replaced the '67 Eldo's 429 cubic-inch one.  By an older standard of measurement, the horsepower rating increased from 340 to 375.
Cadillac crest-and-wreath badges on the C-pillars of '67 models disappeared.
Rear fenders added side marker lights with a Cadillac logo embossed in them.
Interior ventilation ducts located on the inboard side of rear fender edges were discontinued.
Taillights were similar in appearance, but slightly revised.
Wipers were recessed under the hood instead of being mounted externally.  Hood panels were extended by 4 inches towards the windshield to make up for the now unnecessary wiper cowl panel piece.
1969:
Front ends were redesigned, with exposed headlights and a new grille with much smaller cross-sections.
Wheel covers were redesigned from the 1967-68 seven-hole look to a more solid, turbine-finned look.
Optional full vinyl roof coverings no longer reached all the way down to side window edges.  For 1969-70, a one-inch gap of painted metal was visible.  This is known as a "halo style" vinyl roof.
Reverse lights moved from the rear bumper to the fuel filler lid. Lenses in the bumper were now red.
1970:
A 500 cubic-inch / 8.2 liter V8 (Cadillac's largest ever) went under the hood of Eldos for 1970.  This engine would continue to power the next generation through 1976.
The script on the front grille was changed to read "Eldorado" instead of "Cadillac", and a plate reading "8.2 liter" reflected this year's larger standard engine.
Grilles were revised with a more square cross pattern this year.  The chrome strip that extended the whole width of the hood on '69s was gone.
A BRIEF HISTORY OF THE ELDORADO MODEL NAME
Since the first in 1953, the "Eldorado" nameplate had historically been nothing more than high line editions of standard Cadillac de Ville convertibles.  In 1956, Eldorado coupes were offered as the "Eldorado Seville" while convertible models were badged the "Eldorado Biarritz".  Both of these two-door 1957 models received unique rear ends but were identical to De Villes from the doors forward.
From 1957-58 and 1959-60, an additional "Eldorado Brougham" low-volume specialty 4-door was added.  It shared no body panels with any other Cadillacs, and was priced almost twice as high as "regular" Eldorados.
The '57 Brougham was not created for full mass production and once it ran its course, creative powers that be at GM almost immediately began brainstorming on creating a new Eldorado that would capture the buying public's desire for personal luxury cars (usually coupes) inspired by the success of the four-seater Ford Thunderbird introduced for 1958.
Cadillac wanted a car that was innovative in design and engineering, but not so exotic to produce that the price would be in the stratosphere.  At least not fully.  When it went out of production after '60, the sole Eldorado model once again became an upmarket DeVille convertible through 1966.
ENGINEERING OF THE 1967 ELDORADO
Before the '67 Eldorado, engineering experiments with front-wheel-drive had been done by General Motors as far back as the 1930s.  Perhaps that interest was inspired by the front-wheel-drive Cord from that era, but the company ended development due to extreme vibrations that could not be ironed out of the drivetrain.
Revived interest in the concept surfaced after WWII, inspiring the creation of Cadillac's 1955 LaSalle II sports car concept shown at that year's Motorama show.  GM's main goal was to develop a front-wheel-drive design that could be applied to a large car, and company engineers would need to create a compact package with engine, transmission, and front differential/axle assembly in close confines of each other.
By 1958, GM engineering had figured out the basics of how they would set up a front-wheel-drive engine/transmission package using a 429-cubic-inch Cadillac V-8 that would later debut in other Cadillacs for 1964.  The first production "E Body" Toronado/Eldo powertrain ended up resembling this original mockup a great deal.
A V-12 engine was originally considered in the early 1960s for the upmarket front-wheel-drive future car GM wanted to build.  Prototype engines were built but the V-12 was later scrapped in favor of the original V8 arrangement.  Once the company became firmly committed, engineering development assignments for the new fwd vehicle platform were split among GM divisions.  Oldsmobile developed the engine, front suspension and transmission; Buick developed the planetary fwd differential; Cadillac developed the rear subframe, and the Saginaw Powerplant division developed new front-wheel-drive axles, joints, and steering systems that would be needed.
The first styling prototype completed in 1962 for consideration was scrapped (a four-door sedan with a V-shape creased windshield), as was the second in 1963 (a two-door coupe with a similar V windshield, that management felt resembled a T-Bird too much).  The third prototype met with management approval in early 1964, and Cadillac spent the next two-and-a-half years tooling up for production.  A separate production line was set up specifically for the Eldorado, something Cadillac had never done before.
Minis and other European front-wheel-drive models traditionally used only one constant velocity (cv) joint per axle and one cardan joint per axle shaft – resulting in violent engine shake and resonating vibrations when used with larger more powerful engines.
GM was able to eliminate axle vibration on the new E-bodies completely by developing axle shafts with two cv joints instead of one.  Innovative steering geometry was created by using a steering knuckle mounted outside the tire center line instead of inside.  This "outward pivot axis" necessitated the wheels having an outward bulge to them, a setup Volkswagen and Audi copied on later front-wheel-drive offerings.   A negative wheel caster (alignment) angle also added to better steering control.
Until they saw the '66 Olds Toronado, European engineers who had specialized in front-wheel-drive at Mini and Citroen firmly believed that engines larger than 2.0-liter four-cylinders could not be made to run without severely shimmying.  When British Leyland designed a car with an engine larger than 1.8 liters, they actually reverted to using a traditional rear-wheel-drive setup.  They were amazed and immediately bought many '66 Toronados to tear down for analysis.
Because the Toro/Eldo E-bodies had V8 engines that were too large to mount sideways, a transmission was created that was driven by a chain off the rear of the engine.  The transmission faced forward toward the front of the car (parallel to the engine instead of behind it), ending at the differential in the front axle.  Cadillac adopted its own 429-cubic-inch engine for front-wheel-drive use by redesigning the oil pan, exhaust manifolds, belt drives, layout of belt-driven accessories, and engine mounts.
Engine improvements adapting this engine for the Eldorado were used on all Cadillac models.  An improved valvetrain and "Quadrajet" carbuerator were among many.  Oil consumption was reduced by smoother machining of cylinder walls and new piston rings for '67.  The Eldo was born with a bigger brake booster, slide-out fuse box, improved auto headlight dimming system, braided rayon brake hoses, and a printed-circuit instrument panel that the whole line saw as upgrades that year.  Because the Eldo's hood doesn't slope down in the front like the Toronado, a crimped intake manifold wasn't needed for clearance.
Standard equipment included variable rate power steering and automatic load-leveling rear suspension.  Options included 6-way power seats, power windows & door locks, auto headlight dim, cruise control, power trunk release, air conditioning (approximately 88% of '67 Cadillacs were built with the a/c option), and power drum brakes front and rear.  Auto reviewers read Cadillac the riot act for not having superior disc brakes standard due to the Eldo's poor stopping results.  Front disc brakes became available the next model year.
Interesting features include a second inside doorhandle towards the rear of each door to allow rear passengers to open the door, although they still have to squeeze out a bit.  The large heavy doors were made easier to open with heavy duty springs, which ease things even when opening the door uphill.  Small rear side windows slide rearwards into the roof c-pillar, not downwards.  Compared w/ the '66 Toronado, the Eldorado has a one-inch longer wheelbase, and is 10 inches longer overall.  And compared to traditional rear-wheel-drive Caddies, the Eldorado is three inches shorter overall and has a 9.5-inch shorter wheelbase.
SLIDE SHOW  —  CLICK ON ANY OF THE PICTURES IN THE SLIDE SHOW BELOW TO EXPAND TO FULL SIZE.  USE ARROWS UNDERNEATH PICTURES TO SCROLL BACKWARD OR FORWARD.