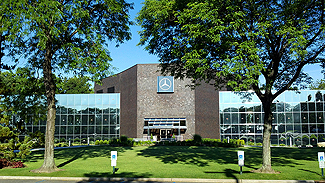 June 16, 2012 – Montvale, New Jersey.  Over 100 classic Mercedes-Benz owners made the trek to Mercedes-Benz corporate headquarters for the 49th annual "June Jamboree" car show, sponsored by the Mercedes Club Northern New Jersey chapter.
Vehicles competed in 16 classes of  Concours judging, where vehicles were scrutinized by judges and rated on a point system for authenticity and cleanliness of:
1. Interior, upholstery, trunk, hard top, soft top
2. Chrome, plastic, rubber, glass, lights, trim.
3. Engine compartment.
4. Exterior paint, finish, bodywork.
Equally participated in was the "Popular Vote" category where show goers simply vote for their favorite vehicle entries, split into seven categories based on vintage.  To view a quick walk around video tour of the show, click here.
CLICK ON ANY OF THE PHOTOS BELOW TO ENLARGE TO FULL SIZE.  USE ARROWS UNDERNEATH PICTURES TO SCROLL BACKWARD OR FORWARD.