Thousands of Maplewood, New Jersey residents turned out for the 2012 "May Fest" street fair and car show on Sunday, May 20th.  Over two dozen classic automobiles ranging a wide spectrum from a 1915 Ford Model T to a 1975 Bricklin Gullwing coupe were present.  Below, a slide show of cars attending.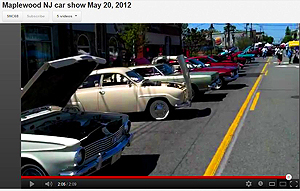 Click on the picture to the left for a short walk-by video of the car show.
CLICK ON ANY OF THE PICTURES IN THE SLIDE SHOW BELOW TO EXPAND TO FULL SIZE.  USE ARROWS UNDERNEATH PICTURES TO SCROLL BACKWARD OR FORWARD.