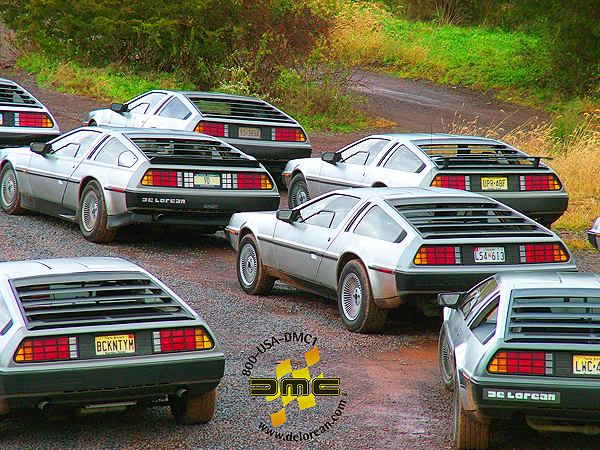 In the 1985 movie "Back To The Future", Marty McFly (played by Michael J. Fox) uses a DeLorean to jump 30 years back in time to 1955.  Today, the new DeLorean Motor Company (DMC) does virtually the same thing – reaching back 30 years in time to a warehouse full of spare parts from 1982 to build new EV Electric Vehicles for the future.
(Photo slideshow is at end of article below)
And like Marty's mentor Dr. Emmett Brown (played by Christopher Lloyd) points out, the stainless steel construction of the DeLorean makes it impervious to rust and decay.  A good thing for the new DeLorean Motor Company, because those leftover spare fenders and gullwing doors are in perfect shape as a result of original company founder John Z. DeLorean's wisdom and foresight.
But there is far more to the story.  The DeLorean Motor Company that produced cars in Ireland from early 1981 to December 1982 before declaring bankruptcy has been left in the past.  The new DeLorean Motor Company is a profitable American company that's very much alive and well.
SOME HISTORY
Enter English-born Stephen Wynne, who worked as a mechanic on DeLoreans in Los Angeles since they were new in the early '80s.  Wynne gained in-depth expertise of the cars as well as a love and appreciation for the original "DMC-12" model that stayed with him and never dimmed.
With financial backing from a private investor and friends, Wynne formed the new DeLorean Motor Company (DMC) in 1995 based out of Humble, Texas.  DMC's business since then has steadily grown from a parts supplier to one with facilities equipped to fully maintain, recondition, restore, and sell of 1981-83 DeLoreans.  And soon, assemble new ones.
Mr. Wynne was able to purchase all the leftover original DeLorean body and mechanical parts from the shuttered factory – enough parts, as he estimates, to build over 400 complete original-spec vehicles.
TODAY
Partnering with Epic Electric Vehicles (Epic EV) based in California, Wynne now plans to put those spare DeLorean parts to good use.  DMC has developed fully engineered and running prototypes of DeLoreans powered solely by battery packs.
I recently had a chance to speak to company Vice President Jim Espey.  He's a likable guy, and very enthusiastic about the company's mission for the future.  He told me some things I didn't know about DMC.  For example, the company headquarters near Houston is a 40,000 square foot building that encompasses their service and restoration facility, assembly works, and worldwide parts warehousing and distribution center.  And they have outlets in Florida, Illinois, Washington, California, and the Netherlands.  This is no fly-by-night company.
Mr. Espey showed me the new DeLorean EV's 400-volt AC-current motor producing 260 horsepower and 360 foot-pounds of torque, and gave me a breakdown of the fixed-gear (1-speed) transmission that replaces original specification 5-speed manuals and 3-speed automatics gas models left the factory with.
How does it perform?  According to Espey, the new DeLorean EV can launch to 60 miles per hour in 4.9 seconds…far faster than original V6-powered ones ever could.  The EV has a top speed of 125 miles per hour, and a minimum range of 100 miles city driving.  Battery lifespan is projected to be approximately 7 years or 100,000 miles.
DMC is currently undergoing certification processes from the United States Department of Transportation (DOT) and National Highway Traffic Safety Authority (NHTSA) to sell DeLorean EVs as new cars, with new model-year designations and vehicle identification numbers.  Espey says DMC hopes to bring these new EVs to market sometime in 2013.
SO WHAT WOULD A "NEW" 2014 MODEL DELOREAN LOOK LIKE EXACTLY?
Body Panels
From the outside, it will look identical to 1981-83 DMC-12s.  Because the company has enough leftover '80s exterior fenders, hoods, gull-wing doors and other body panels, these will be used in production of new EVs.  And since they were stamped out of stainless steel, the parts have not rusted or decayed in 30 years and are perfectly usable today.  DMC will develop processes to create new stainless steel body parts as needs dictate.
As well, the point is to celebrate the advanced design of the original.
Chassis frames and body shells
For years, DMC has already been producing new stainless-steel chassis frames (to original specification) and new body shells used in full restorations of 1981-83 models.  These will continue to be built new as needed.
Epsey describes the material new body shells are built out of as a honeycomb resin, one that allows a great deal of weight savings and increased longevity over the original fiberglass shells.
Interiors
Espey points out customers ordering a new DeLorean EV will be able to select an original 1981 interior layout if they prefer, or add upgrades such as HD radios, satellite radios, ipod interfaces, satellite navigation systems, remote door locking, bluetooth connectivity and much more.
Customers also have a choice of seat designs and other interior panels.
Other mechanical components
Mechanical components on original DeLoreans were advanced for their day.  Brakes were discs at all 4 wheels, steering was rack-and-pinion, and front and rear suspensions were all-independent.  Because they worked well, DMC offers original specification parts.  Or if the customer prefers, upgraded brake, suspension and exhaust components.
DELOREAN MOTOR COMPANY OFFERS CERTIFIED PRE-OWNED MODELS
DMC also starts with existing 1981-83 vehicles and rebuilds them with new chassis frames and body shells.  The same interior, brake, suspension and exhaust upgrades that will be available on new EV models are also fittable per a customer's wishes.
These cars retain their original build year and vin number.  Electric motors will not be available on them – instead, the original aluminum block 2.8-liter V6 is rebuilt with upgrades to produce either 195 horsepower or 235 horsepower with a supercharger upgrade (supercharger was not original equipment).
For more information, see the company's website http://delorean.com/
To view an ABC news clip on the upcoming DeLorean Electric Vehicle featuring company CEO Stephen Wynne, click http://bit.ly/delorean_ev
To see a video tour of the new DMC's headquarters, click here: http://www.youtube.com/watch?feature=player_embedded&v=DndrYmYORGE#at=14
SELECT ANY PICTURE BELOW TO ENTER SLIDE SHOW AND SEE FULL-SIZE IMAGES.  CLICK ON ARROW BUTTONS UNDER EACH PICTURE TO SCROLL BACKWARD OR FORWARD.